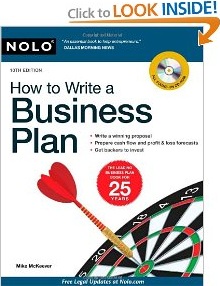 Financial manager Mike McKeever shows readers how to write the business plan and loan package necessary to finance a new or expanding business and make it work. He helps readers make realistic financial projections, develop effective marketing strategies and refine overall business goals.
Entrepreneurs learn how to: evaluate the profitability of a business idea-estimate operating expenses - prepare cash flow, profit and loss forecasts-determine assets, liabilities and net worth - find potential sources of financing - think first before borrowing from friends and relatives - present your plan to lenders and investors.
If you're a business start-up novice and aren't sure what you need to do to get your thoughts out of your head and on to paper in a logical, well-organized manner... you need this book. If you have a business plan to write and think you might get hung up on the finance section... you need this book. If you have an idea for a business and don't know what to do next... get this book.
While this book may not be for the MBA grad, it is for the entrepreneur who is breaking on the scene with a dream that they have to make happen. How to Write a Business Plan must have used as it's mantra, "baby steps, baby steps in the right direction." Take a project that can be overwhelming and use this book to go through the process in manageable steps.
Click here for more information.