Paint Shop Pro : Version 4 Was Best
Paint shop Pro (PSP) by JASC, Inc. was the leading shareware graphics application for many years. If you purchased a book that included a CD-ROM, it almost always included a copy of Paint Shop Pro.
Versions of PSP before 4.12 had annoying problems, like not remembering it's working directory and, instead of undoing your last edit, it would dump all your edits since you loaded the file.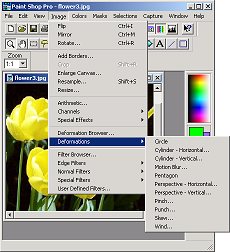 PSP has always attempted to be be a Adobe Photoshop look alike. Adobe Photoshop is the number one application for graphics professionals. Adobe Photoshop is too complicated and too pricey for the average user. Lagging behind Adobe Photoshop caused PSP to be easier to use and far less costly.
When your 30 day evaluation period was over, PSP would display a nice little nag message notifying you that "you are on day X of your 30 day evaluation period". Then the program would continue to chug away, letting you perform some important image processing functions.
After version 4.12, the programmer learned how to use the Windows registry. When you try open newer versions of PSP after the 30 day evaluation period, you get a dialog box with the nasty message "this evaluation version will no longer function".
Here's the problem: I never have the time to evaluate an application within 30 days after I install it. I'm lucky if I have the time to open the program at all within 30 days. So with newer versions of PSP, all I can evaluate is the dialog box with the message "this evaluation version will no longer function".
Solution: Rather than a 30 day evaluation period, the program should give you a 30 USES evaluation period.
Only a professional designer would put in the time and effort to learn such a complicated graphics application. The average user just needs to make a quick sketch or do some basic image processing. So JASC, Inc. is passing up 99 percent of the market.
Solution: Make a "PSP Lite" version. Vendors don't like to do that. They would rather screw the average user into paying for far more functionality than they need.
In the limited time I was allowed to evaluate the newer version of PSP, I was able to tap into some of its power. I was truly astounded. I wasn't allowed to continue my evaluation because the evaluation period expired and application stopped working. I didn't get enough time to become confident that I could handle the application's complexity.
The older PSP version 4.12 is better for the average user. That version fixes the annoying problems, and does not contain all the complexity. You won't get 3D, layers, or vector graphics, but you will get a powerful and easy to use drawing and image processing application. Version 4.12 is a pleasure to use, even for the beginner. And you don't get that nasty "this evaluation version will no longer function" message after 30 days. Now if only we could still buy version 4.12.
Note: version 4.12. vendor.doc part 2: Distribution Requirements. The shareware version of Paint Shop Pro may be freely distributed, with the following restrictions; written permission must be received to distribute Paint Shop Pro on retail racks, on CD Roms, or bundled with any other product.
More Graphics Design Tips:
• Find Free Stock Photos You'll Actually Want to Use For Your Website or Blog
• Free eBook - How to Be a Video Game Designer
• Graphics File Formats for Your Web Page
• How to Trace an Image Using Photoshop
• How to Embed a YouTube Video in Your Webpage
• Where To Find Free Stock Photography, Clip Art, And Other Graphics For Your Web Site
• Inkscape - How to Add a New Node
• Graphics Design for Beginners - Blur Filters
• Inkscape Basics
• How to Make a Simple Video