[ Some jobs require you to wear a suit on a daily basis. These are usually jobs where you are either a manager, a person with very pricey expertise, or a salesman selling a very pricey product. But many people need to wear a suit only for going to job interviews. whether you need to wear a suit to the interview depends upon the position that you are applying for.
For example, if you are applying for a mechanics position, wearing a suit to the interview would send the signal that you don't want to do hard work. Not wearing a suit to an interview for a computer programmer job would send the signal that you might not have the level of knowledge required for the position, even though you probably won't be required to wear a suit on the job.
If you can, try to see how the company employees in the position that you are applying for dress for work. For a job interview you want to dress one step above that. For example if the employees dress casual, you would want to go to the interview in casual, but not wear jeans or a t-shirt. If the employees dress upper-casual, no jeans and with long sleeve shirts, you might want to wear a sport coat but no tie. ]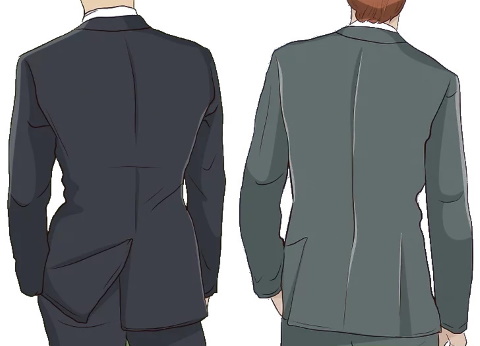 Business suits come in two basic styles, the American style shown on the left, has a center vent suit jacket. The British style shown on the right, has a double vent. Either style is acceptable. The main thing, when applying for a job, is to make sure the jacket and pants are not dirty and wrinkled. You may be able to go months without dry cleaning your suit if you know how to properly press your own pants, but eventually it will need to be cleaned. when that time comes, always dry clean your pants and jacket together.
The secret to wearing a suit properly is understanding how it's meant to fit your body. With the basic knowledge of a tailor and few simple tips, anyone can look smart and put together. Just remember that while fashions change year to year, having a high-quality, classic suit can help keep you in style for a long time.
Choose a charcoal gray or navy blue suit. Unless you are going to a funeral or black-tie affair, there is no reason to wear a black suit in the daytime. Instead, go for a classic-cut, neutral color. These suits will be more versatile and favorable for everyday wear. Most dress shirt colors will also match well with a dark gray or navy.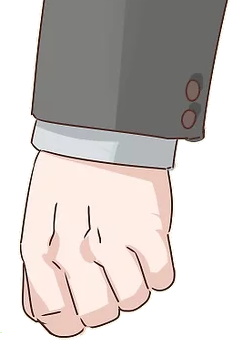 Check the fit of your jacket. The jacket should taper in at the waist to accentuate your shoulders. While the hem should fall where your fingertips end naturally when you have your arms at your side. The sleeves should also sit at the top of your wrists and allow a quarter to a half inch of your shirt cuff to show.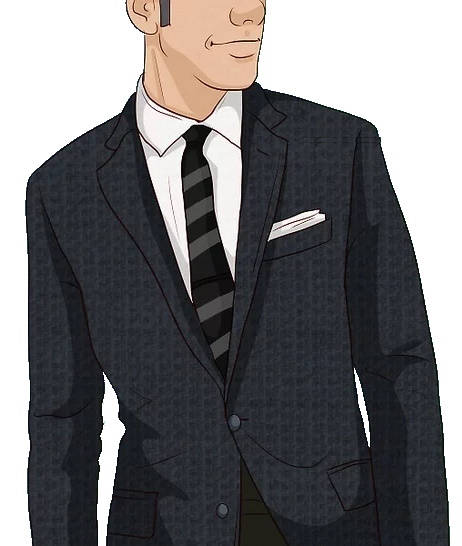 Never button the bottom button of your jacket. This is applicable for both single and double-breasted suits. When you sit down, you should also unbutton the jacket so it doesn't ride up.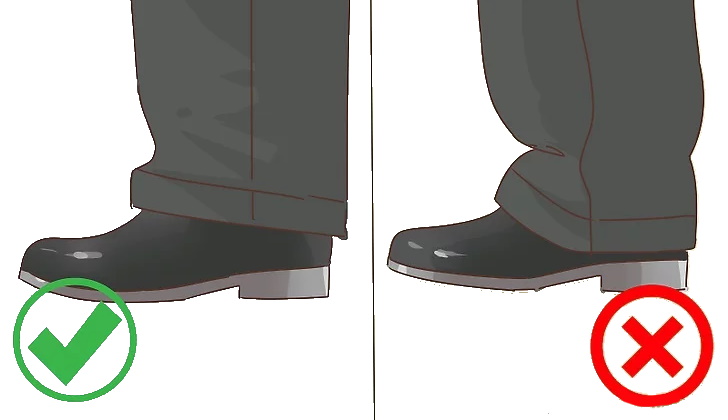 Make sure the pants "break" on top of your shoes. This is when your pants skim the tops of your shoes and create a crease. If there is no crease, it's a good sign that your pants are too short. However, if you have a deep crease or multiple creases, it's likely your pants are too long. To make sure you get the right length, try the pants on while wearing shoes.
• Avoid pants with front pleats or cuffs. Pleats are a much older look that has fallen out of fashion. So rather than trousers with a front crease, go for a flat-pressed trouser, which will help slim your legs. Similarly, purchasing pants without cuffs will help elongate your legs, as cuffing makes them appear shorter.
Wear your suit with a quality dress shirt. Though it can be hard to tell the difference from far away, a quality dress shirt will not only look better but feel better as well. You will have freer movement and the dress shirt will last longer. To make sure you are buying a high-quality piece, look at the crispness of the collar and check for clean stitching.
[ For a job interview, do not roll up the sleeves as shown in the picture above. rolling up your sleeves may be a good trick for later on to make it look like you are really into your work, but not good for a job interview. Also for a job interview you may want to wear a tie, depending upon the position being applied for. ]
Go for a classically styled shirt. You can use the dress shirt to bring in pops of color to accentuate the suit or add personality. However, you don't want to go over-the-top with patterns or bright hues. A fluorescent neon shirt is unlikely to go over well in a basic office job. Instead, try to stick to whites, blues, light purples, salmon, and grays.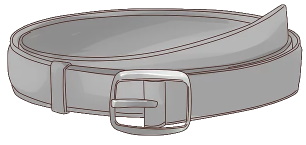 Choose a thin belt. A belt is a necessity for a properly fitted suit. However, you don't want a large, clunky item with a big belt buckle to overpower your look. Instead, go for a thin belt the same color as your shoes with a silver, gold, or bronze belt buckle. The simpler, the better.

Check the width and length of your tie. The standard rule is that the width of your tie should match the width of the lapels on your suit jacket. So, if your lapels are two-three inches, then your tie should be the same. You should also make sure that your tie partially covers your belt buckle. To do this, you may want to knot the tie to see how long it is when worn properly.
[ Modern jackets have thin lapels, so you would want to wear a thin tie. Yor tie should go down to your belt buckle, however, if you have a big belly, wear your tie a bit shorter so that it doesn't dangle in the air. It's good to have a pattern in your tie, but not too bold a pattern for a job interview. Of course there are exceptions, for example if you're applying for a job that involves artistic creativity, you may want a bolder tie. They said a red tie is a power tie. In a job interview, you may not want to wear a power tie as that may make you appear threatening to some people you would work with if hired. ]
Stick to basic knots. The most common knot for a tie is the Windsor knot. This knot looks good with any suit and is common for everyday work attire. You can do either a half-Windsor knot or a full-Windsor knot. Though it may sound odd, a good way to judge which knot to use is to go off of the size of your head. You want the Windsor knot to match. For less formal attire, try a four-in-hand knot.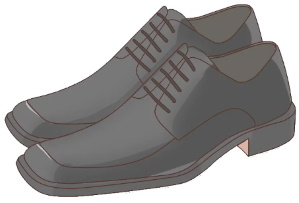 Get the right shoes. For everyday wear, try dark brown shoes. These shoes pair well with both charcoal gray and navy blue. You can also go for lighter browns or tans if you are wearing a lighter colored suit. Loafers or Oxfords are the most common shoes to wear with suits, though you can change styles depending on the occasion.
One of the most important things is make sure your shoes are clean and polished. You can wear tie shoes or slip-ons, as long as they are are clean and polished.
Buy socks with proper length. While socks are a great area to play around with style, you always want to make sure they cover your ankles when you sit down. Your pants are going to ride up no matter what you do, so you want to make sure you aren't showing off any extra skin. Aim for pairs that sit halfway up your shin like argyles.
[ Whether you need to wear a suit on a daily basis or just for a job interview, it is important that you know how to dress properly. ]
---
Article source: wikiHow wikiHow is a group effort to create a great resource: the world's largest free how to manual. wikiHow articles help people solve their everyday problems. wikiHow licenses all content under a Creative Commons License. The license allows wikiHow content to be used freely for noncommercial purposes. The Creative Commons License also allows for the creation of derivative works.