Website Design and Development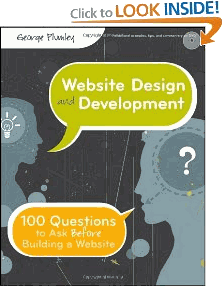 100 Questions to Ask
Before Building a Website
How do you know that you've done everything possible to create a unique, enriching, and successful Web site, particularly when you're hiring others to do it? With Website Design and Development, you'll feel confident that you've exhausted every facet of building a Web site.
The clever question-and-answer format walks you through easily overlooked details, acting as a virtual consultant. You'll get clear, easy-to-follow advice on everything from finding a host, design and layout, creating content, marketing, to staying secure.
Each question features a rating as to how critical it is to the welfare of the site, allowing you to pick and choose where to spend your time and money, and the answers contain helpful illustrations as well as action points.
• Features an accompanying video that offers additional examples, commentary, and advice for each question.
Click here for more information.