Access Useful Laptop Settings in the Windows Mobility Center

Some useful laptop settings are collected together in a group called the Windows Mobility Center. To quickly access the Mobility Center, press and hold the [Windows] key (key with windows icon in lower-left corner of keyboard) while pressing the [x] key. This will open the Secret menu.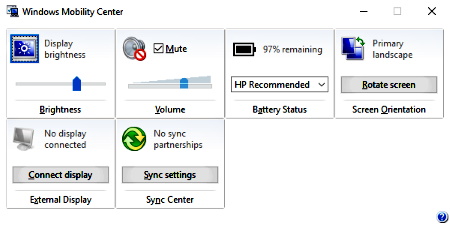 Near the top of the secret menu, select Mobility Center. Here you'll find controls for setting the screen brightness, sound volume, screen orientation, and such. The number of items in your Mobility Center will depend upon the manufacturer and features of your laptop.
More Windows Tips:
• Free Goodies for Your PCs
• Configuring Sound for Windows Events
• The Secret to Passing the Microsoft Office Specialist Exams
• Why My Office Files Do Not Open
• Google Apps vs Microsoft Office 365: Which is Best for Your Business?
• Disable Windows 7 Wireless Configuration Manager Service (WLAN AutoConfig)
• Windows 10 Keyboard Accessibility Settings
• Configure the Start Menu
• Change Vista's Start Menu Shutdown Option
• Video - How to Download Videos from YouTube