Dual Independent Bus Architecture (DIB)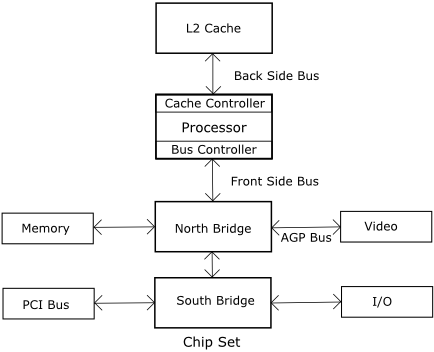 The Dual Independent Bus Architecture (DIB) was introduced by Intel with the Pentium Pro and the Pentium II processors in 1997 and with the Athlon MP a year later. Having a separate main bus and L2 cache bus allows the processor to access both buses simultaneously thereby increasing the processor's speed.
The main processor bus, called the front-side bus, is the interface between the processor and the chip set, while the L2 cache bus, sometimes called the back-side bus, is the interface to the L2 cache. The separate bus allows the L2 cache to run at the full speed of the processor core while the front-side bus runs at the slower speed of the motherboard.
Implementation of DIB requires moving the L2 cache from the motherboard and into the processor package. At the time of introduction the L2 cache was not integrated into the processor die, but instead the L2 die was placed separately in the package.
Some claimed placing the L2 cache on its own separate bus increased system performance more than double.
More Computer Anatomy Articles:
• Build Your Own Computer
• Intel Celeron D Processor
• Understanding PC Data Buses
• Anatomy of a Liquid Crystal Display (LCD)
• Video - Introduction to USB
• 1G, 2G, 3G, and 4G Cellular Wireless Standards
• The Small Computer System Interface (SCSI)
• ASUS M5A78L-M LX PLUS AMD 760G AM3+ Motherboard Bundle
• External Serial Advanced Technology Attachment (eSATA)
• The Computers Back Connector Panel