Troubleshoot Windows 7 with Problem Steps Recorder
Help desk personnel are usually very busy, and you may not be able get them to come to your assistance if you have to leave your desk. The Windows 7 Problem Steps Recorder (PSR) records your problem by capturing screen shots as you move and click with the mouse. You can then send the recorded results to the help desk.
To start PSR, click the Start button, and in the Search box type psr. In the list of results, click on psr.exe.

In PSR, click on the [Start Record] button. Then, go through the steps on your computer to reproduce the problem. You can pause the recording at any time by clicking on the [Pause Record] button. You can resume recording again later by clicking on Start button.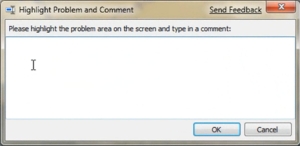 If you want to add a comment, click on the [Add Comment] button, Use your mouse to highlight the part of the screen that you want to comment on, type your text in the Highlight Problem and Comment box, and then click on the [OK] button.
After PSR captures the problem, click on the [Stop Record] button. The Save As dialog box will appear. In the Save As dialog box, type a name for the file, and then click [Save]. The file is saved with the .zip file name extension. You can send the .zip file to the help desk.
To view the record of the steps you recorded, open the .zip file you just saved. PSR compiles the screen shots into a MHTML (Minimal HTML) file. Double-click on the MHTML file and the document will open in your browser. The MHTML file opens as a single webpage which you can scroll through and view the screen shots.
You can configure settings for the PSR by clicking the down arrow, next to the (?) button, and then clicking Settings. You can change the following settings for PSR:
o Output Location. If you don't want to be prompted to save a file after recording, set a default output file name.
o Enable screen capture. If you don't want to capture the screen shots along with the mouse click information, select No. This might be a consideration if you're taking screen shots of a program that displays personal information.
o Number of screen captures to store. If you took 30 screen shots during a recording but only the default 25 screen shots are saved, you would be missing the first five screen shots. In this case, you would want to increase the number of default screen shots.
When you adjust settings for PSR, the settings are saved only for your current session. After you close and reopen PSR, it returns to the default settings.
More Windows Troubleshooting Articles:
• Printer Troubleshooting
• Is Your Laptop Overheating? - 12 Tips To Prevent Overheating
• Video - Using the Problem Steps Recorder Tool
• How to Fix Rundll32.exe Errors
• Free Open Source CPU Temperature Monitor
• Troubleshooting Windows 7 Inside Out
• Fix CD Writer Buffer Underrun Errors
• PC Technician's Guide to EMI (Electromagnetic Interference)
• How to Fix Winload Errors
• How To Fix AppHelp DLL Errors On Your PC