How to Embed a YouTube Video in Your Webpage
Found an interesting video on YouTube that you would like to put on your own website or blog? YouTube has provided many ways to share their videos, but the option to embed the video in your webpage makes it appear to be part of your webpage and makes it most accessible to your website's visitors.
Here's how to embed a YouTube video in your webpage.
1. Go to YouTube
2. Search for the video that you want to embed in your webpage. You can look for the type of video you want by selecting [videos], [Shows], [channels], [Community], or [Search] in YouTube's main menu.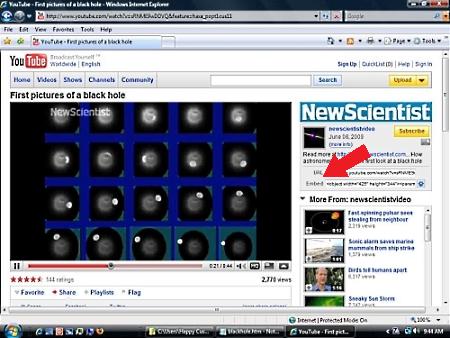 3. Find the embed option on the YouTube webpage where you can play the video. Most videos have many share options, but not all videos provide the embed option. If you don't find an embed option, assume that the video is copyrighted and you are not permitted to embed it on your own webpage.
4. Select and copy all the code from the embed textbox.
5. Paste the code into your webpage.
Be sure to read YouTube's Terms of Service. Basically, you are permitted to use the Embeddable Player to show YouTube videos on an ad-enabled blog or website, provided the primary purpose of using the Embeddable Player is not to gain advertising revenue or compete with YouTube.
If you use the YouTube Embeddable Player on your website, you must include a prominent link back to the YouTube website on the page containing the Embeddable Player.
More Graphics Design Tips:
• How to Place Greek Letters in an Inkscape Drawing
• Inkscape Basics
• Basic Inkscape Text
• Free eBook - How to Be a Video Game Designer
• Pencil Free Open Source Cartoon Animation Drawing Program
• Inkscape Rectangles and Squares Drawing Tutorial
• How to Trace an Image Using Photoshop
• How to Make a Video Game for your Xbox for Free
• What is the Pantone Color System?
• Create GIF Animations With Free GIMP Image Editing Program