With the growth of Prime Now, AmazonFresh, and Amazon Restaurants, Amazon frequently hires more delivery drivers. There are several ways to become an Amazon delivery driver, all of which come with their own challenges, benefits, and incentives. You can work for Amazon Flex if you want to use your own vehicle and set your own hours. For a more traditional job, deliver for Amazon Logistics. Either way, you'll need to meet a few basic requirements to qualify for the position.
Becoming an Amazon Flex Delivery Driver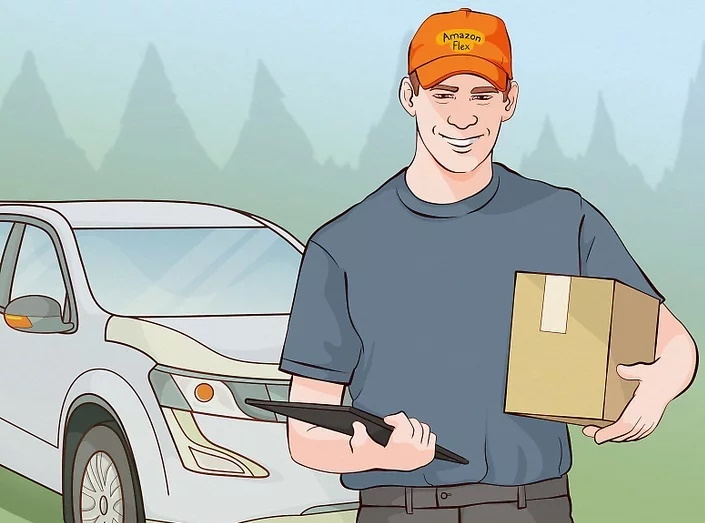 Apply for an Amazon Flex Position to Make Deliveries With Your Own Car
Learning what it means to be an Amazon Flex driver can help you decide if this is the right kind of job for you. Flex drivers are individuals (rather than companies) who want to deliver Amazon packages with their own car. Flex drivers are generally part-time and have the flexibility to make up their own schedules on a daily basis.
If you are looking to become a part-time Amazon delivery driver and have a more flexible schedule, then this may be the right position for you. Amazon Flex drivers typically make between $18 and $25 per hour, depending on the city and time of year.
Check if Amazon Flex is Hiring in Your Region
Refer to the Amazon Flex website to check and see if Amazon is hiring Flex delivery drivers in your region. Once you go to the website online, there will be a list of regions that are currently hiring Flex delivery drivers. If your region does not appear on the list, you can sign up for the waitlist.
Meet the Amazon Flex Delivery Driver Requirements
Amazon requires that Flex drivers be at least 21 years old, have a Social Security Number, have car insurance, have a valid driver's license, pass a background check, have a bank account capable of receiving direct deposits, have a qualifying vehicle, and have a smartphone compatible with the Amazon Flex driver app, such as an iPhone or Android phone.
Most cars that are mid-sized four-door sedans or larger will qualify for Amazon Flex. Once Amazon has determined that you have met all of the employment requirements, you will be able to register as a Flex driver and start earning money.
Sign Up for Amazon Flex Online
If Amazon is hiring Flex drivers in your region, select it from the online list. To sign up, answer a few brief questions, including where you live, what vehicle you drive, and what type of phone you use. If your answers meet Amazon's basic requirements, you will be asked to download the Amazon Flex app on your smartphone.
Download the Amazon Flex App to Access the Flex Driver Aapplication
Use the link provided or go to your smartphone carrier's app store to download the Amazon Flex smartphone app. Log into your existing Amazon account or create a new account to gain access to the Flex driver job application.
If you are creating a new account, fill out all of the information required by Amazon to start an account, including your name, address, and email address.
Complete the Amazon Flex Driver Application
After you have logged in, use the Flex smartphone app to complete the driver application. The application asks a series of questions designed to let Amazon know if you meet the Flex delivery driver requirements, such as your education background, work history, and driving history. The application will also ask you to verify that your car and smartphone meet the requirements for Flex drivers.
On the application, include all your relevant work experience and emphasize your safe driving record to help you stand out from other applicants. The information you provide will also be used by Amazon to run a background check, so make sure that all the information you provide is honest and accurate.
Register as an Amazon Flex Delivery Driver
Once you have finished the application and Amazon has determined that you have met its basic requirements, you can register as an Amazon Flex delivery driver. To register, use the smartphone app to select the service area where you will pick up and deliver Amazon packages. Then, provide your bank account number and routing number so that Amazon can deposit your earnings directly into your bank account.
The smartphone app provides you with the opportunity to watch some videos that will help you learn best practices for delivering with Amazon.
Schedule Your Flex Driver Blocks to Start as Amazon Delivery Driver
To officially become an Amazon Flex delivery driver, use the Flex smartphone app to start scheduling the blocks of time during which you will pick up and deliver packages. There are two ways you can do this:
1. You can schedule delivery blocks by going into the calendar setting in the Flex app and selecting all the delivery blocks during which you are available. You will then receive offers to sign up for delivery blocks based on your availability, and you will accept or decline these offers.
2. Tap on the Check for Available Blocks tab on the Amazon Flex app to see what blocks are available that day. You can then accept any blocks throughout the day that work for your schedule.
Start Your New Job as an Amazon Flex Delivery Driver
Once you have scheduled your first delivery blocks, you are ready to start driving deliveries and making money! As a Flex driver, you will likely work in 2- to 4-hour shifts making deliveries for Amazon Prime Now, AmazonFresh, and Amazon Restaurants. The Flex smartphone app provides locations and driving directions for all your pick-ups and deliveries.
Most AmazonFresh and Amazon Prime Now orders are picked up at a Prime Now Delivery Station and delivered to the residence or business indicated on the app. For Amazon Restaurants orders, the app indicates a designated Waiting Area for you to begin. Once you arrive at the Waiting Area, select "I've Arrived" in the app. The Flex app then provides further instructions on how to pick up and deliver the order.
As a Flex delivery driver, Amazon pays for your entire shift, regardless of how long your deliveries take you. If you sign up for a 3-hour delivery block, for example, and you get done with your deliveries in 2 hours, you still get paid for your 3-hour shift. But, if you do not finish all the deliveries during your block, Amazon does not compensate for the extra time.
Delivering for Amazon Logistics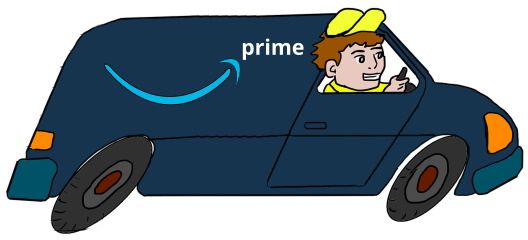 Apply to Become a Seasonal or Full-Time Delivery Associate
Check the Amazon website to look into the location of the Amazon warehouses in your area, and consider about how often you want to be a delivery driver for Amazon. Amazon Logistics delivery associates generally make less money than Amazon Flex drivers, so be aware of your financial needs when determining if this is the right position for you.
Amazon Logistics delivery associates typically make between $13 and $19 per hour, depending on the location, time of year, and whether the delivery driver is a seasonal or full-time driver.
As an Amazon Logistics delivery associate, you do not need your own vehicle. Delivery associates are expected to drive an Amazon van weighing up 10,000 pounds (4,500 kg).
Delivery associates must be able to lift heavy packages, and climb in and out of the van with ease.
While associates are given a daily schedule, Amazon expects delivery associates to be flexible to potential schedule changes due to weather, traffic, seasonal demands, and other unanticipated factors.
Meet the Requirements for Amazon Logistics Delivery Associates
The requirements may vary depending on the location and type of position, but in general, Amazon requires that delivery associates have a valid driver's license, speak English, and have a high school diploma or GED. Finally, you must be at least 21 years old.
Search for Amazon Logistics Delivery Associate Positions in Your Area
Using the Amazon job search website or a third-party job search engine, search to see if there are any job openings in your area. Because many of the Amazon Logistics delivery associate positions are seasonal, check back often to make sure that you don't miss an opportunity to fill an opening.
To search for Amazon job openings, visit Amazon Jobs.
Fill Out the Online Application
Once you find an Amazon Logistics delivery associate position that is available in your area, complete the application on Amazon's website. While the questions on the application will vary depending on the specific position you apply for, in general, delivery associate applications ask that you provide your name, address, education and work history, and driving history.
When filling out the application, make sure that you include all the required information and provide any additional documents, such as a resume or proof of education.
Go Through the Interview Process
If you meet the requirements for the position and your application is accepted, you may be contacted for an interview. Your interview can take place in person at Amazon's local headquarters or warehouse, over the phone, or via video conference.
Take the time to prepare for your job interview so you feel confident that you will pass the interview with flying colors.
While the process varies, interviews for Amazon Logistics delivery associate positions are generally short, asking only a few questions about interviewees' work experience and driving history. The interview process focuses more on making sure that potential delivery drivers are aware of everything that the job will entail.
Accept an Offer to Become an Amazon Logistics Delivery Associate
If your interview is successful, Amazon will reach out to you via phone or email to make you an official offer to become an Amazon Logistics delivery associate. You can accept the offer upon receiving it, or, in most cases, you will be able to take a bit of time to consider the offer and respond in a timely manner (usually within a few days).
For seasonal delivery associates, the hourly pay is generally included in the job listing so you will not need to negotiate your salary when you receive the offer. There might be some salary negotiations involved for full-time positions, however, so it might be helpful for you to review how to negotiate a salary.
Complete the Training to Become an Amazon Delivery Driver
Training for Amazon Logistics delivery associates is generally coordinated by Amazon shift personnel. Training usually includes several ride-alongs with more experienced delivery drivers. After successfully completing the training, you will officially become an Amazon delivery driver.
Start Working as an Amazon Logistics Delivery Associate
Amazon Logistics delivery drivers are usually seasonal or full-time drivers who deliver orders that depart from Amazon warehouses to homes, retail locations, and other delivery locations. Your hours and schedule will depend on whether you are a seasonal or full-time driver, as well as the needs of your particular warehouse location.
---
Article source: wikiHow wikiHow is a group effort to create a great resource: the world's largest free how to manual. wikiHow articles help people solve their everyday problems. wikiHow licenses all content under a Creative Commons License. The license allows wikiHow content to be used freely for noncommercial purposes. The Creative Commons License also allows for the creation of derivative works.

Learn more at amazon.com
More How to Choose a Career Information:
• Gardening and Landscaping - A Lucrative Career Option
• How to Escape the Corporate Cubicle
• Skill Sets for an Underwater Welding Career
• How to Become an Illustrator
• What Does it Take to Become a DJ?
• A Career in Investment Banking
• The Career Guide to Technical Writing
• Being a Security Guard
• The Best Career Advice You Can Give Your Children
• Police Officer Career