by Stephen Bucaro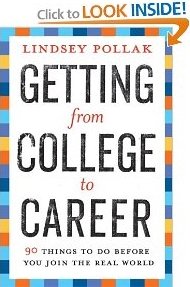 This book gives you the essential information and guidance you need to get your foot in the door of the real world. Don't start your first job search without it!
From the Book:
Avoid the Biggest Mistake in Career Prep and Job Hunting
Remember how the nicest grade-school teachers always said, "There are no stupid questions." Well, I would add that there are no stupid ways to gain experience and look for a job. The only stupid thing you can do is nothing.
That's right; the worst mistake you can make is not to take any action at all. How do I know this? Because I did it. As you learned in the introduction, when I returned from graduate school in Australia and moved back into my old bedroom in my parent's house, I spent about a month under the covers. I did absolutely nothing, except sprain my ankle when I finally ventured out jogging one day. That led to another month of doing absolutely nothing.
By not taking any action at all, I pretty much guaranteed that I wouldn't find a job. Once I started making some phone calls, meeting some people for lunch, and sending out my resume, I built momentum and begun to find opportunities. The minute I took action - any action - things started happening.
Whenever you are stuck, frustrated, nervous, clueless, confused, discouraged, or overwhelmed, in my experience the answer is always action. Just do something. That's why this book is arranged in action-oriented tips. Every page includes a way for you to move forward, no matter where you are in the career planning process. And I recommend taking a least one career-related action every single day.
This is a great mind-set to keep with you at every stage of your career. As long as you're not standing still, you can rest assured that you're moving closer to your goals and dreams.
Maxwell Platoff of Brooklyn, NY says, "Throughout my time in college, I admit to espousing a fairly naïve and arrogant attitude about how one moves from education into the workplace, being fairly blind to my own sense of entitlement. I repeatedly spurned the advice that my friends and family tried to offer me, and as a result I made little progress when I finally graduated and expected my life to fall into place without my own involvement. Finally, after little success, I came to my senses and decided to seek help from an expert in order to gain some perspective. Lindsay Pollak's Getting From College to Career had been recommended by various sources and seemed like a worthwhile read, and I am incredibly glad that I bought it.
"My initial fear was that the book would just be a recapitulation of the normal tips for improving one's résumé and cover letter and ensuring a solid interview. Pollak does address these topics (what kind of career-counselor would she be if she didn't?), but what I really found valuable was the bevy of other minutiae of job-hunting that might not even occur to most people. Pollak, a reasonably young professional, is tuned into the technological advances that have somewhat altered the employment landscape, such as online job posts that have overshadowed the more antiquated newspaper classified ads. However, her age also allows her to use her wisdom to help the young, tech-savvy, and clueless students of today. For example, her point that one should customize his or her online appearance in order to avoid disclosing embarrassing character flaws or incriminating photos.
"For those of us who have a hard time transitioning from reading a book to executing the recommendations provided therein, Pollack includes convenient checkboxes to mark once each task is accomplished. Some of these may take time, like setting up an interview, but others are quite simple, such as changing one's outgoing voicemail message to sound more professional. Overall, I found that this layout gives the reader a feeling of progress while making his or her way through the different points.
"Ultimately, I found Pollak's book to be a total wake-up call in terms of my career. Learning that 70 - 80 percent of jobs are found through networking provided a motivating force to get me out into the world and work for what I wanted, rather than sitting passively at my computer and waiting for listings that somehow applied to me. Obviously, a 300-page paperback cannot address all the possible pieces of advice that one would need to land a dream job, but it comes pretty close, and Pollak lists references other materials to look up for more specialized areas. I would highly recommend this book to all college seniors, especially those from liberal-arts schools that are tragically remiss in offering substantive career guidance. It will prevent them from spending some depressingly long years living in their parents' basement."
Susan M. Harris of Chicago, IL says, "I liked this book so much I bought 3 copies for my college-age kids. (Of course, as a Type A parent, I read and highlighted the important sections first.) What I like about this book is the fact that it is simple and unpretentious. It serves up the advice so that it is easy for even an unmotivated teen to take some action. The reader can jump into the content at any point to get directions on a specific subject. The suggested actions are finite and free-standing. And low and behold, I have seen some of Lindsey's suggestions being implemented without much haranguing on my part. Thanks, Lindsey.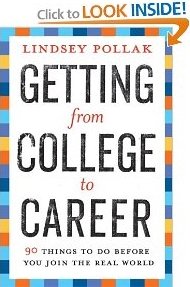 Click here for more information.
More Finding a Job Information:
• Identity Theft and Your Online Job Search
• Top Five Jobs for Ex Felons That Pay Good Money
• How to Get a U.S. Government Job
• At Home Call Center Jobs
• Get Unstuck - Use the Power of Volunteering
• How to Get a U.S. Government Job
• How to Get a Job
• The Telephone Interview - Ten Tips for Making a Good Impression
• Why Companies Hire Only People Who Already Have a Job
• The Five-Hour Corporate Interview - Survival Tips