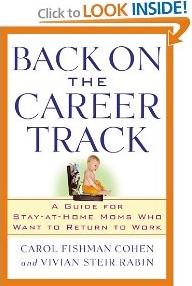 For full-time moms, going back to work doesn't mean returning to your old job and easing back into the life you had before staying home to take care of the kids. Instead, it means reigniting old contacts (even those who were once your junior), marketing yourself, and getting over the intimidation that plagues most women who have been out of the workforce, whether it's been two, six, or fifteen years.
Cohen and Rabin interviewed more than a hundred women from accross the country and from a wide variety of fields that had been out of the workforce for anywhere from eighteen months to twenty years. Most of these women grappled with some of the same questions:
1. Should I go back to work?
2. Why am I intimidated at the prospect?
3. How can I regain my confidence?
4. How can I find opportunities that will accommodate my family obligations?
5. What are the actual concrete steps I can take to return to work successfully?
6. How can I make the adjustment as easy as possible for myself and my family?
Part 1 of this book addresses these questions.
Reader Daphne de Marneffe says, "This book has two great strengths. One is that if offers a calm, practical strategy for breaking down and following through on the many tasks involved in going back to work. This is really important and welcome, since in the busy day-to-day of parenting, it is often hard to look at the big picture and think strategically. The second is that it talks about the practical AND emotional hurdles to going back to work, and manages, in an upbeat but balanced way, to talk like a firm but supportive friend about overcoming them. There' s a lot written lately about how mothers are foolish and naive if they don't work for pay, a point of view bound to alienate mothers who aren't currently working. This book, by contrast, is not ideological, but helpful and eminently practical. It's a great resource if you are just starting to think about (and feel your way through) this complex question.
Carol Cohen and Vivian Rabin, who have successfully pulled it off themselves, know that it can be done - with careful planning, strategizing, and creativity. In Back on the Career Track they offer a seven-step program for going back to work. These steps are:
• Relaunch or not? You decide
• Learn confidence
• Assess your career options
• Update your professional and job search skills, and prepare for the interview
• Network, market yourself, and clinch the opportunity
• Channel family support
• Handle the job (or find another one)
Cathy A, Cramer of New York City says, "I have spent a lot of time thinking about this particular issue and I found Back on the Career Track to be right on point! It is a very thorough guide that takes you through essential steps in figuring out the next steps of the professional journey that women in mid life face. It contains helpful suggestions on how to jump start the process and lots of examples of women who have made successful transitions. I also liked that it highlighted some structural changes that are happening in the workforce and that it discussed ways to work with younger women to ensure that they have more options than we do. It has helpful reference materials and it takes real life situations and tells how to make them work for us instead of holding us back. I work with many women who are "in this space" and I have recommended it to everyone who is either actively looking for her next project or even women who are at the very beginning of the process. It is a wonderful reference and I highly recommend it!
Contents:
Part I The Seven Steps to Relaunch Success
Chapter 1 RElaunch or Not? You Decide
Chapter 2 Learn Confidence
Chapter 3 Assess Your Career Options
Chapter 4 Update Your Professional and Job Search Skills, and Prepare for the Interview
Chapter 5 Network, Market Yourself, and Clinch the Opportunity
Chapter 6 Channel Family Support
Chapter 7 Handle the Job (of Find Another One)
Part II The Relaunch Movement and Beyond
Chapter 8 Inspirational Relaunchers
Chapter 9 The Relaunch Movement
Chapter 10 What Employers, Universities, and Others are Doing for Relaunchers
Resources: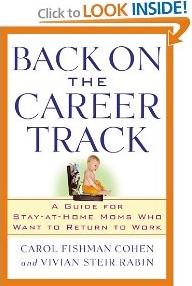 A reader from Denver says, "Excellent! A very helpful book with the potential to change lives - for the better. An absolute page turner I could not put down until the very end. Have recommended it to a number of people. Click here for more information.
More Finding a Job Information:
• Ten Things to Never Put on Your Resume
• Need a new job? Try Search Engine Optimization
• Five Simple Steps to Finding a Job
• Why Didn't I Get The Job?
• Movie and TV Extras Wanted - What Type Does Someone Have to Be?
• Identity Theft and Your Online Job Search
• Seven Tips on How to Make a Good Resume
• Effective Interview Questions for Hiring Managers
• Job Finding Tips
• The Ins and Outs of Apprenticeship Programs