The Right Job, Right Now: The Complete Toolkit for Finding Your Perfect Career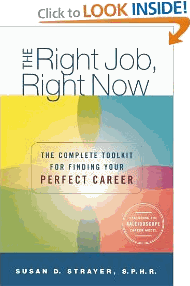 The Right Job, Right Now presents a complete step-by-step plan for long-term career satisfaction using self-assessment, self-marketing, and a comprehensive job search and career development strategy.
Based on the author's Kaleidoscope Career Model, this book shows you how to take charge of your career and takes you, step-by-step, through the complete job search process including:
• Career assessment - what do you have to offer and what do you want in return?
• Taking action - searching for a new job, interviewing, and accepting offers.
• On-the-job issues - answers to common questions from dealing with a bad boss to performance management.
Click here for more information.