Windows 10 Troubleshooting : Blank Screen on Startup
If the Windows 10 screen is blank after startup the problem could be one of the following possibilities.
• check the obvious first, if a desktop system, is the display plugged into a live power outlet and it's power switch turned on?
• if a desktop, check that the video cable is connected securely at both ends. If you have one, swap the video cable with a known good cable.
• check the display brightness setting.
• check that the system has power. One way to do this is to listen for fans.
• if a laptop that has been configured for a second display, check that the screen image is being sent to the main display.
• laptop LCD's (Liquid Crystal Display's) are built with a backlight behind the screen that allows you to see the display even in low lighting. To check if the backlight is not working, bring the display into a well lighted area, start the system, and see if the display image is faintly visible.
• Safe Mode is a special diagnostic mode that starts your PC with a minimal set of default drivers and only essential services. It givies you access to diagnostic tools such as Device Manager, Registry Editor, Command Prompt, and System Restore. In previous versions of Windows, to enter Safe Mode you had to repeatedly press the F8 key while Windows was booting. This was very tricky.
Windows 10 provides the WinRe (Windows Recovery Environment), which is similar to Safe Mode, but with even more powerful repair and diagnostic tools. It can be accessed by simply holding down the F11 key while starting Windows.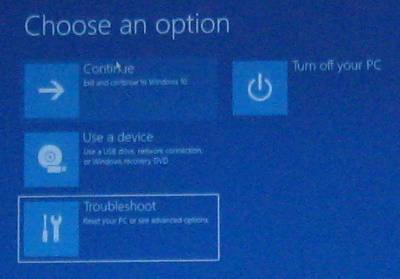 In the "Choose an option" menu that appears, use the arrow keys or mouse to select "Troubleshoot". In the Troubleshoot menu that appears select "Advanced options".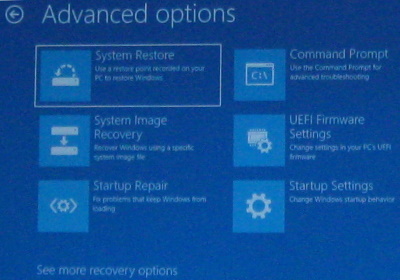 In the Advanced options menu, you can select several powerful options such as "Startup Repair". Startup Repair is a recovery tool that might be able to fix your blank screen problem. Or if you are a more experienced technician you can select "Command Prompt" for some serious system troubleshooting power.
More Windows Troubleshooting Articles:
• How to Fix Hard Drive Errors and Slowdown
• Windows Don't Start Because of a Corrupted Registry
• Video - Common Laptop Problems
• How to Fix "ICACLS" Error
• How to Resolve Cable, DSL, and Dialup Modem Problems
• Fix Windows 7 Boot Errors
• Windows 10 Built-in Memory Diagnostic Tool
• Windows Doesn?t Shut Down
• How To Fix Peer Name Resolution Protocol Service Errors
• A Required DLL Was Not Found