50 Best Jobs for Your Personality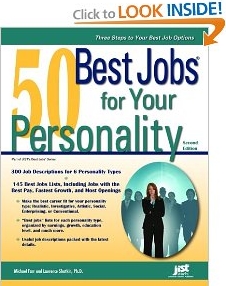 Research has proven that matching your personality to a career brings work satisfaction and success. With this best-selling book's help, you'll discover your personality type and the 50 best jobs that relate to it. Part I overviews how personality relates to careers. Part II features a self-assessment for determining you personality type: Realistic, Investigative, Artistic, Social, Enterprising or Conventional.
Part III contains the best job lists, including the 50 best jobs overall for each personality type. Other lists for each personality type include the best-paying jobs, jobs with the highest projected growth, best jobs based on education lever, best part-time jobs, and best jobs for the self-employed - 145 best jobs lists in all. In Part IV, you find a gold mine of facts about the 50 best jobs for each of the six personality types and 300 job descriptions.
Mary Askew from Phoenix, AZ says, "50 Best Jobs has detailed information on each occupation - Holland Codes, job descriptions, earnings, job growth and openings, education⁄training requirements, skill areas, and GOE Interest Areas. Extensive job lists provide a wealth of information:
• Highest Pay, Fastest Growth, and Most Openings
• Education, Job Training, and Work Experience Requirements
• GOE Interest Fields and Groups
50 Best Jobs for Your Personality is useful for:
• Career Exploration
• College Major Exploration
• Career Planning
• Career Transition
• Occupational Information
• Career Counseling
• Career Decision-Making
As a bonus, 50 Best Jobs has a career assessment and an overview of the Holland Code Career Model. This is an excellent resource for counselors, consultants, and teachers."
Partil list of jobs described in this book:

Aircraft Mechanic
Architectural Drafter
Automotive Body Repairer
Automotive Mechanic
Brickmason
Bus Driver
Television Camera Operator
Carpenter
Cement Mason
Civil Drafter
Civil Engineer
Computer Support Specialist
Building Inspector
Correction Officer
Drywall Installer
Tile Installer
Electronic Technician
Electrical Power-line Repairer
Electrician
Fire Fighter
Heating and Air Conditioning Mechanic
Industrial Mechinery Mechanic
Maintenance Worker
Mechanical Drafter
Medical TechNician
Heavy Equipment Operator
Painter
Ship pilot
Plumber
Radiologic Technicain
Refridgeration Mechanic
Roofer
Sailor
Alarm System Installer
Sheet Metal Worker
Surveyor
Telecommunications Installer
Vehicle Inspector
Truck Driver
Treatment Plant Operator
Anesthesiologist
Biochemist
Chemist
Clinical Psychologist
Computer Engineer
Software Engineer
Electrical Engineer
Electronics Engineer
Environmental Engineer
Industrial Engineer
Mechanical Engineer
Laboratory Technician
Computer Network Administrator
Computer Systems Administrator
Optometrist
Pharmacist
Teacher
Architect
Editor
Fashion Designer
Video Editor
Illustrator
Graphic Designer
Hair Stylist
Cosmetologist
Interior Designer
Interpreter
Landscape Architect
Makeup Artist
Merchandise Displayer
Animator
Photographer
Creative Writer
Producer or Director
Public Relations Specialist
Special Education Teacher
Substance Abuse Counselor
Technical Writer
Agricultural Scientist
Psychologist
Dental Hygienist
Environmental Scientist
Firness Trainer
Marriage Counselor
Social Worker
Registered Nurse
Physical Therapist
Radiation Therapist
Air Trafic Controller
Real Estate Appraiser
Copy Writer
Criminal Investigator
Flight Attendant
Food Service
Insurance Agent
Lawyer
Personal Finaancial Advisor
Personnel Recruiter
Real Estate Agent
sales Representative
Accountant
Bookkeeper
Court Clerk
Court Reporter
Database Administrator
Dental Assistant
Dispatcher
Financial Analyst
Insurance Adjuster
Legal Secretary
Librarian
Loan Officer
Medical Records Technician
Medical Secretary
Medical Transcriptionist
Paralegal
Pharmacy Technician
Police Officer
Mail Carrier
Purchasing Agent
Receptionist
Secretary
Shipping and Receiving Clerk
Statistician
Bank Teller
Web Developer