When you can't solve a computer problem yourself, a technician may ask you to allow them to have remote access. Remote access allows the other person to see your computer desktop and take control. This is a way to get technical assistance, but after your problem is resolved, it allows a huge security risk.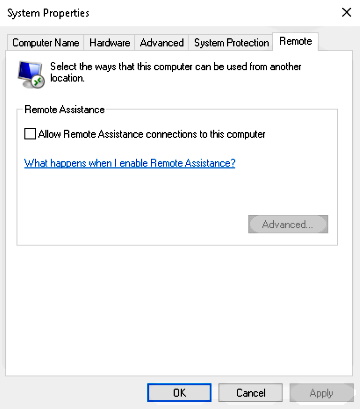 To be sure that your PC cannot be remotely accessed without your permission, check that remote access is disabled. In Control Panel, click on the System icon. In the System window, left panel, select the Remote settings link.
In the System Properties dialog box that appears, on the Remote tab, make sure the [] Allow Remote Assistance connections to this computer checkbox is unchecked.
To verify this, in Control Panel, click on the RemoteApp and Desktop Connections icon. The RemoteApp and Desktop Connections window that appears should display the message "There are currently no connections available on this computer".
If you need remote assistance in the future, you'll need to reenable Remote settings In the RemoteApp and Desktop Connections dialog box, you'll need to enter your computer's name and your administrator password.