Every day thousands of sociopaths go online to spend their entire day online trying to hack into other peoples computers. That's why you need to utilize every security option available. The Firefox browser offers a number of quick and easy ways to increase your online security.
In the Firefox menu select Tools | Options. At the top of the Options dialog box that appears, Click on the Security icon. Here are settings to increase your security on Firefox: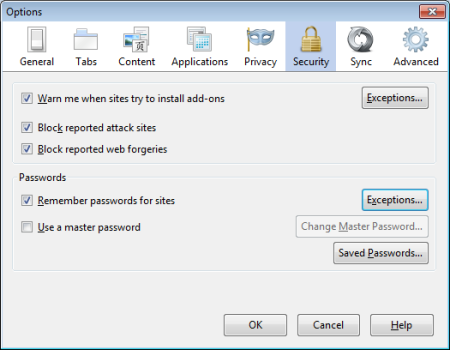 [x] Warn me when sites try to install add-ons:
Setting this checkbox causes Firefox to warn you when a website tries to install an add-on and blocks it. For sites you trust, click on the [Exceptions...] button and in the Allowed Sites dialog box that appears, enter the address of the site and click on the [Allow] button.
[x] Block reported attack sites:
Setting this checkbox causes Firefox to check whether the site you're visiting attempts to interfere with normal computer functions or send your personal data over the Internet.
[x] Remember passwords for sites:
Setting this checkbox causes Firefox to securely save passwords you enter in Web forms to make it easier to log in to websites. Clear this checkbox to prevent Firefox from remembering your passwords (for example, if you're using a public computer).
[x] Use a master password:
Setting this checkbox causes Firefox to protect sensitive information such as saved passwords and certificates by encrypting them using a master password that you create. Firefox it will ask you to enter the password the first time it needs to access a certificate or stored password.
You can set, change or remove the master password by checking or unchecking this preference or by clicking on the [Change Master Password...] button. If a master password is already set, you'll need to enter it in order to change or remove the current master password.

Learn more at amazon.com
More Windows Administration Information:
• Computer Architecture, Hardware domain of the CISSP Exam
• FREE Antivirus Software AVG
• Has Malware Turned Off Your PC's User Account Control?
• Guide to Selecting the Right Spyware Removal Tool
• What Are WEP, WPA, TKIP, AES and PSK?
• No Software on the Market Removes All Spyware
• How Many Spyware Items Are Slowing Down Your Computer?
• BIOS Security
• Computer Architecture, Main Memory, and the CISSP Exam
• A Guide to Understanding Security and Safe Windows Vista Computing