Introduction to Windows Performance Monitor
Performance Monitor is a visual tool that system administrators can use to examine how various parameters of a Windows system are performing. To access Performance Monitor:
1. In Control Panel, click on the Administrative Tools icon.
2. In the Administrative Tools windows that appears, double-click on the Performance Monitor icon.
3. In the left-panel of the Performance Monitor window, click on Monitoring Tools | Performance Monitor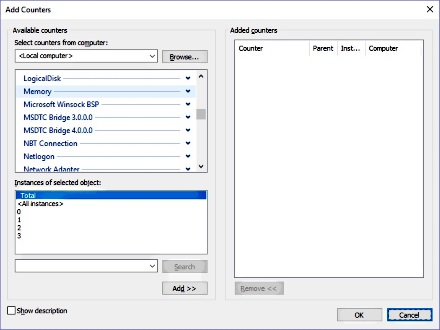 By default Performance Monitor shows a running graph of the percent of Processor time being utilized. Click on the green + icon at the top of the chart window to open a dialog box with a list of other monitors you can add to the chart. One interesting thing to monitor is Memory. In the list, scroll to Memory and click on the down arrow next to it, this expands Memory into a list of memory properties, called counters that you can display. Highlight % Committed Bytes In Use and click on the [Add>>] button. Then click on the [OK] button.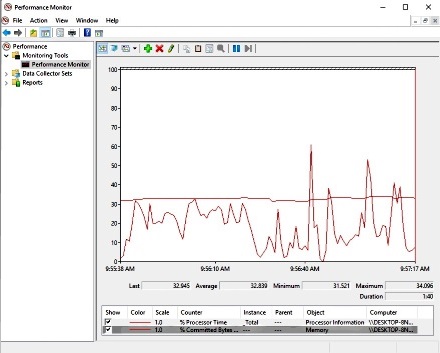 Other counters you might find interesting are:
• Physical Disk | % Disk Time: Displays the percentage of the hard drive's time spent performing read and / or write requests.
• Network Interface | Bytes Total/sec: Displays how many bytes are sent and received over a particular network interface.
To remove a counter's trace from the display, in the list of counters at the bottom of Performance Monitor, uncheck the counter you wish to remove. To start monitoring that counter again, just reset the check. To remove the counters name from the list, highlight the name and click on the red x icon at the top of the chart window.
More Windows Troubleshooting Articles:
• How to Reinstall Windows XP
• How to Restore an HP Computer to Factory Settings
• Quick and Easy Guide to Reinstall the Video Driver
• Fix CD Writer Buffer Underrun Errors
• A Thorough Guide to Fixing That Printer That is Not Working
• How to Repair Low Memory Errors
• A Required DLL Was Not Found
• How to Replace a Broken Dell Latitude E5520 Laptop Screen
• How to Fix "ICACLS" Error
• A lot of Beepen and Tooten But No Booten?