Receive notification when a new article, information, or content has been posted to this website.
Stop the Slaughter of Innocents. Congress is bought and paid for by gun lunatics and gun promotion groups. If you want to live in a safe America, help buy Congress back for America. Send a donation to Mayors Against Illegal Guns, 909 Third Avenue, 15th Floor New York, NY 10022
Computer Repair with Diagnostic Flowcharts
This manual for troubleshooting PC hardware problems creates a visual expert system for diagnosing component failure and identifying conflicts.
The seventeen diagnostic flowcharts at the core of this book are intended for the intermediate to advanced hobbyist, or the beginning technician.
PC Technician's Guide to EMI (Electromagnetic Interference)
Computers are high-speed digital devices. That means their internal signals are high-frequency electric pulses. In 1886 the German physicist Heinrich Rudolph Hertz demonstrated that rapid variations in electric current could be emitted into space in the form of radio waves. When these radio waves interfere with the operation of nearby electronic devices, it's referred to as Electromagnetic Interference or EMI.
The high-frequency digital circuitry in PC's can cause EMI that interferes with the operation of nearby electronic devices. For this reason the Federal Communication Commission (FCC) regulates emissions in the United States. PCs are required by the FCC to be certified as Class B devices. This certification limits the amount of EMI that a PC can produce.
PCs can also be affected by EMI from other electronic devices. Potential sources of EMI are any type of radio transmitter, or any device with a coil or solenoid, or transformer, such as a doorbell, toaster ovens, electric blanket, electric bug zapper, heating pad, and may other electric devices.
Radiation spreads out as it travels away from it's source. Following Newton's Inverse Square Law the intensity of radiation drops off rapidly with distance. Therefore the main method of protecting PC's and other electronic devices from EMI is to separate them in distance. If the EMI from an electronic device has sufficient energy and is close enough to another device, they will cause interfere with that device. Devices that emit EMI should be kept a distance from PCs, peripherals and media.
More Windows Troubleshooting Articles:
• Computer Repair with Diagnostic Flowcharts
• How to Fix Windows XP Errors
• Stop Windows Freezing and System Lockups
• Windows 7 Startup Modes for Troubleshooting
• Solving Image Problems on HP Laser Printers
• Can't Unistall A Program, Now What?
• Video - Dell Laptop Motherboard Replacement Tutorial
• How to Resolve Cable, DSL, and Dialup Modem Problems
• Troubleshooting Broadband Cable Modem Problems
• Video - Exploring with Process Explorer

Want to know what's inside a microprocessor? Books on computer architecture are scarce and expensive, and loaded with register transfer code, assembly language programming, and complicated mathematics.
In this book you get an introduction to digital electronics. Then you'll learn, from simple block diagrams, about basic microprocessor architecture. You'll learn about the latest microprocessor technologies, like hyper-threading, multi-core processors, and dual independent bus architecture.
If you just want a basic understanding of how a microprocessor works without the complicated programming and mathematics, this is the book for you. Click here to learn more.

RSS Feed
Computer Sections

Free PC Technical Support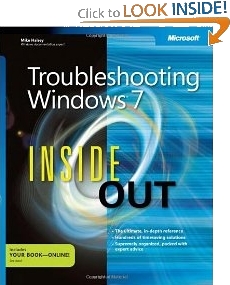 A reader from Rockster, Illinois says, "... The book has great tips for optimum configuration, diagnosing problems, setting security, disaster recovery, common annoyances and how to get around them. This is a great reference book that the beginner or advance PC user will want to keep handy. There is so much information in this book that even the die hard computer geek who thinks he/she knows everything about computers should find something here that they didn't know and can put to good use." Click here for more information.