Troubleshooting Windows 7 Inside Out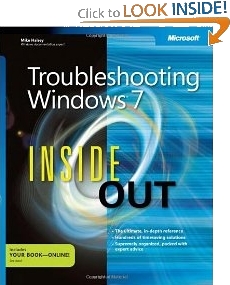 The ultimate, in-depth troubleshooting reference
This supremely organized reference describes hundreds of prevention tips, troubleshooting techniques, and recovery tools in one essential guide. Discover how the experts keep their Windows 7-based systems running smoothly.
o Take control of essential Windows 7 maintenance and security features, such as the Action Center and User Account Control
o Master quick fixes to the most common problems using expert tips and step-by-step repair guides
o Implement best practices to help prevent and combat viruses, malware, and identity theft
o Apply advanced troubleshooting techniques by understanding how Windows 7 works
o Diagnose hardware problems and work safely with your PC
o Develop a recovery plan to restore your system and data in the event of a disaster
o Know when to use power utilities for advanced performance, maintenance, and diagnostics
Partial Contents:

Chapter 11: Easy Ways to Fix Windows 7

Restore Previous Verions of Files
System Restore
   Configuring System Restore
   Restoring Windows 7 Using System Restore
   Can I Undo System Restore Changes?
Troubleshooting Software Compatibility
   Manually Setting Program Compatibility
   The Automatic Program capability Troubleshooter
   Program Compatibility Notifications in Action Center
   Windows XP Mode
Windows Won't Start
   Last Known Good Configuration
   Safe Mode
   Windows Startup Repair
   Startup Repair from an Install DVD 
       or a System Repair Disc
   You Did Back it Up, Didn't You?
Working with Device Drivers
   Common Problems with Device Drivers
   Graphics Driver Problems
   Device Manager
   Installing Device Drivers
   Removing and Reinstalling Device Drivers
   Updating Device Drivers
   Rolling Back Device Drivers
Action Center Troubleshooter
Microsoft Fix It Center

A reader from Rockster, Illinois says, "This is about the most comprehensive book I have found that discusses Windows 7 features and capabilities in an easy to read format. All the bases seem to be covered to make anyone upgrading to Windows 7 or anyone just starting out with Windows 7 to become comfortable with the new operating system and to get the best out of it. There is even a section in the book covering the basic components of PCs, how to clean your PC, identifying the different parts. Great for newbies who want to know a little about their computer.
"The book has great tips for optimum configuration, diagnosing problems, setting security, disaster recovery, common annoyances and how to get around them. This is a great reference book that the beginner or advance PC user will want to keep handy. There is so much information in this book that even the die hard computer geek who thinks he/she knows everything about computers should find something here that they didn't know and can put to good use." Click here for more information.
More Windows Troubleshooting Articles:
• Troubleshooting Windows 10 DHCP is not enabled
• Don't Have Permission to Write to Drive
• Troubleshoot with Free Process Explorer Utility
• Troubleshoot Windows XP with Free Upgrade Advisor
• No Computer Sound
• Windows Doesn?t Shut Down
• First Stop When Troubleshooting Windows 7 - Control Panel
• Protect Yourself From Fake Technical Support
• How to Fix Winload Errors
• Windows 7 Startup Repair Tool