The System Information utility
How would you like a utility that shows you:
• How your computers resources are assigned, including DMA channels, IRQs, I/O addresses and memory addresses, including conflicts and sharing.
• How your computers hardware is configured, including registry keys, resource assignments, device drivers - including a driver history, and problem devices.
• How your software is loaded in memory, including loaded modules, running tasks, OLE registrations, and updates applied.
• And much more, including everything you could want to know about your Internet Explorer configuration.
This powerful utility looks right into the heart of your system, and not only is it free, itís installed with every version of Windows 98 and higher. The utility that I speak of is System Information.
To open System Information, select Start | Programs | Accessories | System Tools | System Information. Or if you're in a hurry Start | Run msinfo32.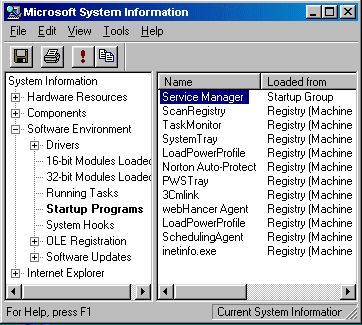 One interesting area to check out in System Information is Start-up Programs. In the left panel of the System Information window, click the + sign next to Software Environment to open that branch. Then click on Start-up Programs. This section provides not only the names of the modules loaded at start-up, but also where the module is loaded from.
If you want to save this system data, save it as a System Information file (extension .nfo). Then if you have system problems in the future, you can open the file in System Information to see what changed. If you need to communicate your system data to a service technician, export it to a text file. Then you can send it by e-mail or fax.
The System Information utility provides a Tools menu, that gives you quick access to Windows Systems Tools such as Disk Cleanup and Dr. Watson so you can troubleshoot your system.
Why spend big bucks for a commercial systems analysis suite when a comprehensive system utility is available free and comes installed with your operating system?
More Windows Troubleshooting Articles:
• How To Fix Peer Name Resolution Protocol Service Errors
• Windows 7 System Recovery Options
• Stop Hard Disk Thrashing
• A lot of Beepen and Tooten But No Booten?
• Fix DNS Server Not Responding on Windows 7
• Troubleshooting Windows 10 DHCP is not enabled
• Make a Bootable Windows 7 USB Drive
• Windows 7 Startup Modes for Troubleshooting
• How to Fix Overheating Computer
• How to Fix Mshtml.dll Error