There are three ways to achieve a wireless connection; WiFi - which means you connect to a wireless access point on your local network, Cellular - which means you connect using 4G or 5G via the nearest cellular tower, or Mobile hotspot - which means you connect via a mobile device like a smart phone that provides a WiFi connection.
Transmissions in the cellular frequency range have been found to interfere with an airplane's navigation and instrumentation systems. Therefore when boarding an airplane you must disable those transmissions while in flight. You accomplish this by placing your device in Airplane mode. When Airplane mode is turned on, it disables:
• Cellular connections (4G or 5G)
• Bluetooth devices
• WiFi connections
After take-off, you can enable Bluetooth if you need it. Now, many airlines are implementing high-speed Wi-Fi on some flights. So after take-off, you can enable Wi-Fi, connecting to the airplane's access point. This is going to cost you, currently about $10.00 per flight. If you're a regular flier you can purchase a monthly plan for about $50.00 a month.
Note: On airlines with Wi-Fi you can always access the airline's web site for free in order to book or change flights.
To Turn Airplane Mode On or Off in Windows 10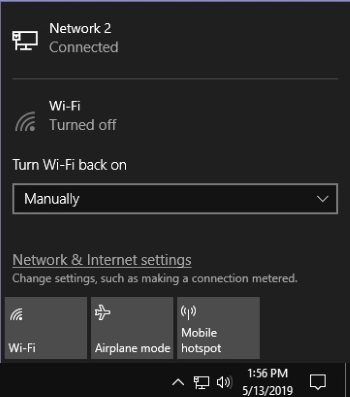 To turn airplane mode on or off, select the Network icon on the right side of the taskbar, then select Airplane mode.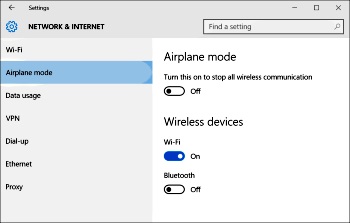 Unfortunately most airlines Wi-Fi does not allow video steaming at this time, but things are changing fast.