Frequently I'll place a CD or DVD in the drive, or plug in a USB device like a digital camera, and Windows will go crazy searching for files on it, or will generate a popup box asking me what I want to do with it. I almost never want to start playing anything, I almost always want to view and select files on the media or device.
In previous versions of Windows, you had only two choices: to autoplay or not to autoplay. With Windows 7 you have a much wider range of configuration choices. Windows 7 lets you configure settings for each media type; whether to autoplay and which application to use to play. To configure AutoPlay: In Control Panel click on Hardware and Sound, then click on AutoPlay.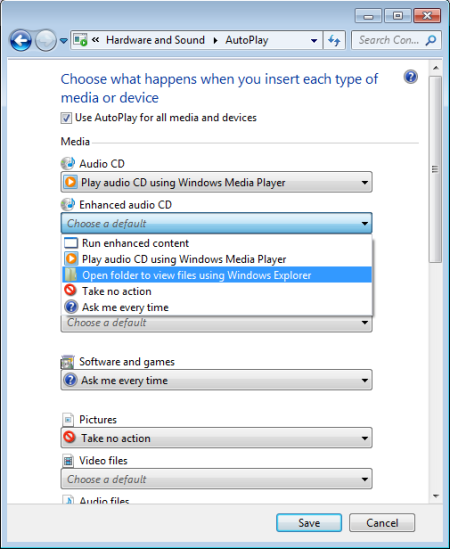 In the AutoPlay dialog box, by default Windows 7 sets [x] Use AutoPlay for all media devices. You can uncheck this checkbox and then personalize what AutoPlay does for each media type. For example you can configure games to automatically run from the media, while you can configure pictures to open Windows Explorer to view the files. If you have multiple applications for a media type, you can even configure which application should be used.