Cisco-Linksys Network Magic Pro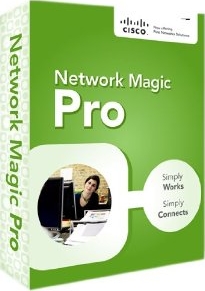 Having trouble connecting your devices together and to the Internet, or printing from any computer? With Cisco Network Magic Pro, you can avoid lengthy, tech support phone calls, hard to navigate online forums and expensive on-site consultants. It provides do-it-yourself tools for setting up, managing and securing your network.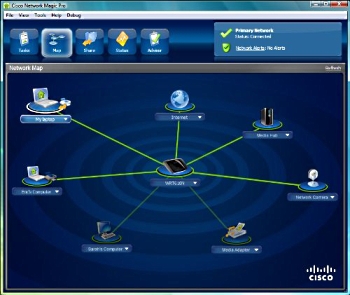 Easy to Use Interface
Intuitive interface includes network map, plus in-product wizards streamline networking tasks, taking the guesswork and effort out of getting connected, monitoring activity and repairing your network.
Once your network is up and running, Cisco Network Magic Pro makes it easy to see what is happening on the network through a Network Map which is a visual representation of all the devices that are connected to your home network, as well as possible intruders.
The map also provides additional details about those devices, including IP addresses, connection status, alerts about software updates, as well as easy access to any tasks related to each device. By utilizing the features of the map, you can view and control many aspects of your networked devices, without having to go to each device individually.
Connect and Share
Share an Internet connection with other computers and devices. Connect printers, cameras and DVRs in minutes. Connect storage devices to your home network to easily back up your data.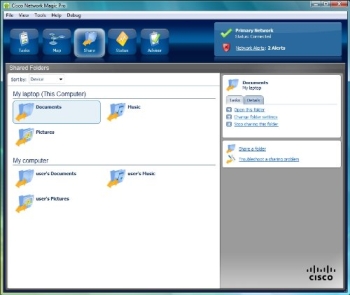 To share files with your other computers, simply click on "Share a Folder" and a software setup program known as a "wizard" walks you through the steps. If you want to see what folders are shared on one computer, or all of your networked computers, you can do that as well. Cisco Network Magic even puts a shortcut on your desktop, making it easy to access all the music, photos, videos and other files available on your networked computers.