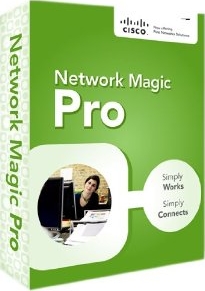 Having trouble connecting your devices together and to the Internet, or printing from any computer? With Cisco Network Magic Pro, you can avoid lengthy, tech support phone calls, hard to navigate online forums and expensive on-site consultants. It provides do-it-yourself tools for setting up, managing and securing your network.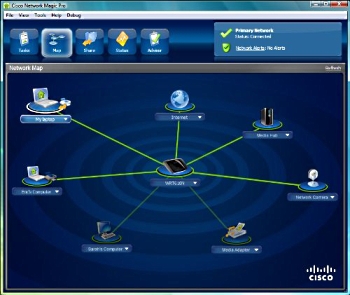 Easy to Use Interface
Intuitive interface includes network map, plus in-product wizards streamline networking tasks, taking the guesswork and effort out of getting connected, monitoring activity and repairing your network.
Once your network is up and running, Cisco Network Magic Pro makes it easy to see what is happening on the network through a Network Map which is a visual representation of all the devices that are connected to your home network, as well as possible intruders.
The map also provides additional details about those devices, including IP addresses, connection status, alerts about software updates, as well as easy access to any tasks related to each device. By utilizing the features of the map, you can view and control many aspects of your networked devices, without having to go to each device individually.
Connect and Share
Share an Internet connection with other computers and devices. Connect printers, cameras and DVRs in minutes. Connect storage devices to your home network to easily back up your data.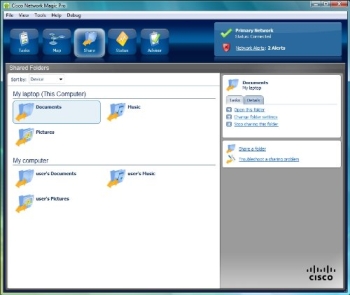 To share files with your other computers, simply click on "Share a Folder" and a software setup program known as a "wizard" walks you through the steps. If you want to see what folders are shared on one computer, or all of your networked computers, you can do that as well. Cisco Network Magic even puts a shortcut on your desktop, making it easy to access all the music, photos, videos and other files available on your networked computers.
With multiple computers in a household, it becomes very cumbersome and expensive to outfit each one with its own printer. If you want to share a printer among multiple computers, Cisco Network Magic Pro has an easy setup process. The program will make the printer available to all computers on the network, and will even automatically install the printer drivers on the different PCs for you.
Network and Family Protection
If you're like millions of concerned parents, you worry about the content that your children are exposed to on the Internet. Perhaps you would also like to control when your children have access to the Internet. With the Internet Access Controls in Cisco Network Magic, you can do all of this and more.
Cisco Network Magic offers controls that allow you to manage when and where your networked computers access the Internet. You can restrict Internet access to certain times of the day, making sure your kids are doing their homework and not surfing the web or chatting with their friends online. All of this can be done remotely, via a password-enabled tool so the controls you put in place stay there.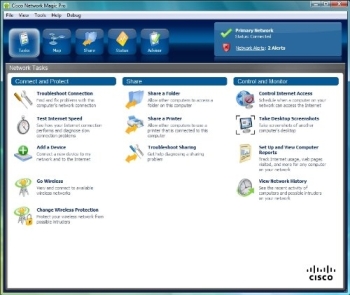 Manage your Network
One of the most frustrating aspects of managing a home network is troubleshooting when one of your devices gets disconnected. Your computer's operating system offers limited solutions for fixing a problem with the PC, and no help for reconnecting other devices like game consoles or Internet-connected TVs.
Network Magic offers a variety of troubleshooting solutions for your network connection, as well as file and printer sharing. When your connection is lost, the Network Map will clearly show you where the break is. Click on the "Repair Connection" button from the map to have the software walk you through a step-by-step guide to fix your network connection. The "Troubleshoot Sharing" task will do the same when you have file and printer sharing problems.
Cisco Network Magic Pro user Christopher Galitz says, "I discovered this product when trying to cut through the Microsoft clutter of networking using three different versions of Windows (Vista 64, 7, and 7 starter) with a Mac pending. It does everything it is supposed to and then some, saving me the hours of frustration over "you do not have authority" or "you must log in" or other styles of network errors when sharing files in my own home.
"As previously noted. The software comes shipped on a USB drive. When you open it, if you are trying to save the packaging (for possible return) you will likely not find the folded up piece of paper with the activation key. It is behind the cardboard behind the drive behind the plastic. So, destroy the packaging and you will find it."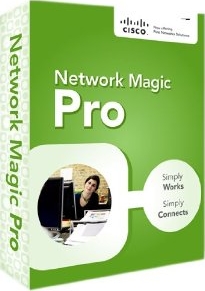 Click here for more information
More Networking Basics:
• The Network Technician Career Field
• Media Access Control (MAC) Sublayer of the OSI Data Link Layer
• Network+ Certification Exam Tutorial - DHCP And RARP
• What is a Network Sniffer Used For?
• What is IPv6 Anycast Routing?
• What is Microsoft Azure?
• The Function of the Three Planes of Junos Network OS
• What is DNS?
• Degree verses Computer Certifications
• What Routers Do