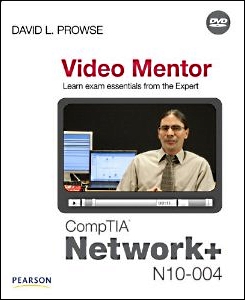 Get all the hands-on training you need to pass CompTIA's latest Network+ exam, get certified, and move forward in your IT career! In this easy-to-use DVD, top Fortune 100 network consultant David L. Prowse walks you through every skill and concept you'll need to master to pass the new CompTIA Network+ Exam (N10-004/JK0-016). This DVD contains more than seven hours of expert-led videos designed to build and test your knowledge of networking technologies, media, topologies, devices, management, tools, security, and a whole lot more!
Network+ certified Tom Hickman says, "This Video Mentor is a smart idea. Cost me $60. Includes 7 hours of step-by step instruction. Very pleased with the product. I took a 40 hour Net+ class that costed me $1200, and wasn't too happy with it. The instructor really only explained things maybe half of the time, but didn't show things on the actual computers and other equipment. The instructor in the video mentor is far superior to the instructor I had, I wish I could take HIS class!
I also used the Network+ Exam Cram book, and by studying both I passed the Network+ N10-004 exam easily. The exam isn't really that hard. You just need to go slow, and think through the questions. Plus, there are a lot of common sense safety and customer service oriented questions. I would recommend using this video mentor along with a book like the exam cram or something like it. You can't go wrong!"
Thorough coverage of all Network+ exam objectives:
• Configuring IP addresses: subnets, gateways, DNS servers, NAT, CIDR, and more
• Utilizing today's core network protocols, including IPv6
• Configuring DHCP servers and connecting from Windows clients
• Working with Cat 5e cable, NICs, multifunction devices, and other network hardware
• Setting up wireless access points, channels, frequencies, SSID, and encryption
• Identifying network topologies, connectors, and devices
• Managing networks and monitoring their performance
• Using Windows and Linux command-line network utilities
• Setting up secure firewalls and VPNs, authenticating users, and utilizing leading security protocols
• And much more ...
Detailed lessons: Each module begins with a succinct outline of Network+ exam items covered that will be demonstrated in both the lecture and lab portions of the videos.
Lab examples: Walkthrough labs with the presenter to learn important setups and configurations.
CLI Commands and GUI Operations: Graphical interface and command-line operations guide you through the task at hand.
The fast, powerful way to prepare for your CompTIA Network+ exam! Click here for more information.

Learn more at amazon.com
More Networking Basics:
• Fiber Broadband Internet Service
• Network Patch Panel Basics
• Network+ Certification Exam Tutorial - How And When To Use Virtual LANs (VLANs)
• Network Administrator Street Smarts: A Real World Guide to CompTIA Network+ Skills
• Cisco-Linksys Network Magic Pro
• What is DSL and how can it benefit my home or small business?
• What is Microsoft Azure?
• Bluetooth in Brief
• What is an Ethernet Crossover Cable?
• Media Access Control (MAC) Sublayer of the OSI Data Link Layer