Networking Basics - Servers, Racks, Blades and Towers
Unlike tower servers, offices that use rack servers which traditionally come in 1U, 2U, 3U, 4U or 6U are installed in racks. The numbers that give names to the rack mounted servers precisely indicate the number of Us they occupy in the racks. The 1U server occupy a single 1U bay, the 2U occupy two and the 4U occupy four, while a rack of standard size has up to 42U:


1U rack server - note the hot swapable hard drives
The servers in 1U format are preferred by companies for use in hosting and data, because they are very compact (only 4.4 cm high), which lets you install a large number of servers per rack. The main limitations of this format is the limitations with regard to ventilation (due to the small inner space), impeding the use of processors with high energy consumption and the need to use coolers and special fans, which all run at an extra cost. Besides the basic components, spare space in general to install 2 or 4 hard drives of 3.5 "(according to the provision of other components) and a single expansion card, installed horizontally, with the help of a Riser.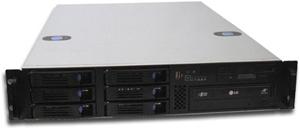 2U rack server
Then there are the 2U servers. They use "normal" power sources and coolers and therefore end up being a little cheaper. The bigger internal space makes the format more suitable for 2U servers with two or more processors, or processors that use high consumption. The height is not enough to install expansion cards upright, as in tower servers, but you can use a Riser (as in the case of 1U), or use half-height cards (the lower plates, which have half the height of normal plates).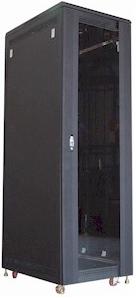 Server rack