Sphere Volume Calculator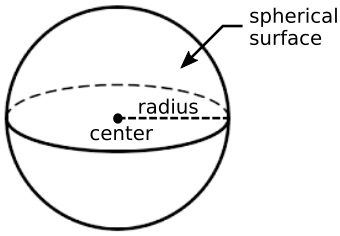 Enter the radius of a sphere, and the calculator will return the volume in the same units cubed. The formula for the volume of a sphere is volume = 4/3 pi radius3.
All length units entered should be of the same measurement system, i.e. all metric or all English, and of the same base i.e. all centimeters or all meters, or all inches or all feet. Then the area output will those same units.
Note: Before using the results from this calculator, check this site's Web Site User Agreement. Also I would be greatful to hear your comments and suggestions about this app, or anything else. use the Contact Form.
More Search Section Information:
• Fahrenheit to Celsius / Celsius to Fahrenheit Converter
• Loan Payment Calculator
• TouchGraph Google Browser
• Useful Resources on the Web
• Radius of a Circle from Chord Calculator
• Minispreadsheet Instructions
• Microsoft's Support Websites
• Surface Area of a Sphere Calculator
• Improper Fraction to Mixed Number / Mixed Number to Improper Fraction Calculator
• Gravity Calculator