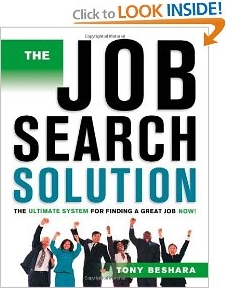 The Ultimate System for Finding a Great Job Now!
Tony Beshara is the owner of Babich and Associates which he joined in 1973, and bought from its founder in 1989. This proven job search plan is delivered by a guy who is on the front lines and in the trenches on a daily basis. My day-to-day responsibilites are solely concerned with finding people jobs. I have personally placed more than six thousand people, and I am adding to that every day.
In this book, I provide you with a day-to-day, detailed system that I have developed over the years to ensure your personal success at finding a job. If you work the system, it will work for you. And I can explain very simply what to do. But the proven, perfected formula of the way to do it is not simple. It has taken thirty-one years to discover and perect the formula for the sytem. It is all here in this book!
This book is about a simple process that can be outlined as follows:
• Find a job or change jobs.
• Find employers with "pain" - That is, an actual current need to hire someone.
• Get interviews with employers with "pain".
• Sell yourself hard in initial interviews.
• Sell yourself in follow-up interviews.
• Get offers.
• Negotiate offers.
• Accept an offer.
• Go to work!
A reader says," Tony Beshara has created a great resource for all job seekers with his book. I have read most of the more popular job search books on the market and I believe that Tony's book is by far the clearest and most straight forward book regarding what actually works in an effective job search. He applies over 30 years in the recruiting business to keep people focused on what actually works in getting interviews. What works is a singular focus on getting interviews through simultaneous efforts in networking, approaching target companies and recruiters that can get you interviews. What does not work is wasting time and effort on job boards that have a very low probability of actually landing an interview."
Contents:
• The Emotional and Psychological Dimmensions of Finding a Job
• Start Taking Massive Action Now!
• The Key to the Whole Process: Getting Face-to-Face Interviews
• The Stark Realities of Your Potential Employer's Hiring Process
• Breaking Down the Popular Delusions About Resumes and Cover Letters
• Common Myths and the Realities About Hiring
• The Benefits of Practical Spirituality
• Mastering the Dreaded Telephone Interview
• Making the Interview Successful 95 Percent of the Time
• Follow-Up Interviews: A Whole New Challenge
• The Toughest Interview Questions: Be Ready for Pitfalls
• Overcoming Employer Biases That Can Keep You From Getting a Job
• Looking for a Job When You Have a Job
• Be Careful With References
• Stay Focused on the Process Even When You Reach "The Finals"
• Handlng Your Transition Smoothly and Confidently
• Tony's Top Ten Reasons Why People Have Trouble Finding a Job
Experienced Executive Recruiter S. Lordan from Clearwater, FL says, "I am always looking for books to recommend to my candidates, so they are better prepared, not just for interviewing, but for dealing with the whole search process they often find so baffling and ego-deflating. Managing the emotional process on the candidate side of the search equation is one of the toughest parts of being a good recruiter. For the company, hiring is purely a business decision. For the prospective employee, changing jobs is a business AND personal decision affecting not only one's livelihood, but often family happiness, location, marriage success or failure!"
"Tony Beshara's book is at the top of my recommendation list. I read once that a candidate's stress level increases 200 percent from initial job inquiry to offer time. Tony's book unveils those mysteries of the hiring process that cause so much of the prospective employee's emotion - emotion which, if not handled properly, often results in offers that could have been, but don't materialize. Most candidates do not realize that they must adopt the same axiom in their job search that makes them successful at their jobs - "Plan your work, and work your plan". This easy read gives the candidate a workable, proven plan for finding the right opportunity. I disagree with the reviewer who thought the book simply promotes the use of recruiters. I believe if more candidates read this book, they might not need us nearly as much!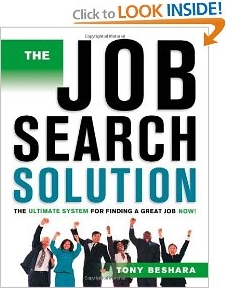 Click here for more information.
More Finding a Job Information:
• How to Wear a Suit
• How to Apply for Food Stamps
• How to Get a U.S. Government Job
• Job Interviewing - Ten Tips for Success!
• Tax Deductions For Your Job Search
• Unemployment - A Golden Opportunity
• Resume Success Factors - What Exactly Is A Resume Anyway?
• Job Hunting For Those Desperately Seeking a Job
• The Telephone Interview - Ten Tips for Making a Good Impression
• How to Find Jobs in Music