A Guide to Understanding Security and Safe Windows Vista Computing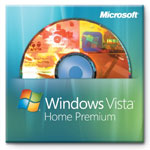 If you connect to the Internet, allow other people to use your computer, or share files with others, you should take steps to protect your computer from harm. Why? Because there are computer criminals (sometimes called hackers or crackers) who attack other people's computers. These people can attack directly, by breaking into your computer through the Internet and stealing your personal information, or indirectly, by creating malicious software (or malware) designed to harm your computer.
Fortunately, you can protect yourself by taking a few simple precautions. This article describes the threats and what you can do to defend against them.
Check Your Security Status With Windows Security Center
Windows Security Center is your headquarters for computer security. It shows your computer's current security status and recommends anything that you should do to help make your computer more secure. To open it:
Open Security Center by clicking the Start button, clicking Control Panel, clicking Security, and then clicking Security Center.
Security Center checks your computer for these security essentials:
• Firewall. A firewall can help protect your computer by preventing hackers or malicious software from gaining access to it.
• Automatic updating. Windows can routinely check for updates for your computer and install them automatically.
• Malware protection. Antivirus software can help protect your computer against viruses, worms, and other security threats. Antispyware software can help protect your computer from spyware and other potentially unwanted software.
• Other security settings. Security Center checks for proper Internet security settings and whether User Account Control is turned on. For more information, see User Account Control Overview.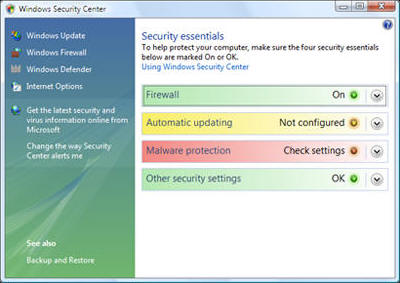 If any of the security items have a red or yellow background, your computer might be vulnerable to security threats. To fix the problem, click an item to expand it, and then follow the instructions.