When you allow or block a program through the firewall on your Windows PC, you create a firewall rule. Windows presets a bunch of firewall rules, and some programs create rules when they're installed. To view the list of rules, follow these steps:
1. Tap the Windows key and type Windows Firewall.
2. Choose Windows Firewall Control Panel from the search results. The Windows Firewall window appears.
3. On the left side of the window, click the Advanced Settings link. The Windows Firewall with Advanced Security console appears.
The center part of the console window lists basic firewall actions. These actions say the same thing: Disallowed inbound or outbound connections are blocked. To see more specifics, choose a category such as Inbound Rules from the left side of the window, illustrated here.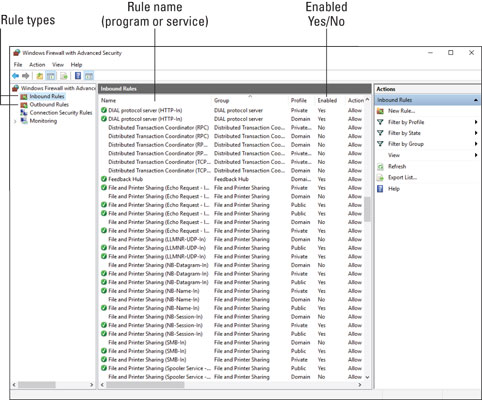 Each program or service features an inbound rule, outbound rule, or both. The rule can be enabled or disabled, or it can be deleted to remove the rule and have the firewall prompt again for access.
The details shown in the Windows Firewall with Advanced Security console are nerdy. Yet it's a useful location if you mistakenly allow a program and want to block it again: Select the program's rule and press the Delete key to remove it.
This is an excerpt from:
Need a PC problem fixed in a pinch? Presto! Troubleshooting and Maintaining Your PC All-in-One For Dummies offers 5 books in 1 and takes the pain out of wading through those incomprehensible manuals, or waiting for a high-priced geek to show up days or weeks after you need them. Arming you with everything you need to get that pesky PC working for you ASAP, this handy guide walks you through all the steps to restoring whatever's making your PC go rogue - so you can get back to making it work for you.
There's nothing worse than firing up your PC only to discover it's inexplicably unresponsive. With this guide, you'll gain all the skills and insight you need to need to bring it back to life - and to prevent it from ever leaving you in the lurch again.
• Find out what's behind common PC problems
• Solve email and web woes, both big and small
• Perform regular maintenance and get serious about backups
• Troubleshoot to find solutions to your issues and learn proper maintenance to head off future headaches!
Your PC problems aren't as big as you think! Take matters into your own hands with the helpful instruction provided inside this book!

Learn more at amazon.com
More Windows Administration Information:
• Choosing a Tape Drive
• Create and Change Password, Picture and User Name in Windows 7
• Understanding Windows 7 Security Center
• Video - Microsoft Remote Desktop - Part One
• Computer Data Backups - Test Now or Cry Later
• Disable Indexing to Speed Up Your Computer
• Use Windows 10 File History Option to Backup Your Personal Files
• Uncomplicated AD Object Management on a Remote Server Domain
• Set the User's Profile Information
• Windows 10 New Storage View