Video - Dell Laptop Optical Drive Replacement Tutorial
BTH Webmaster message: Because an optical drive is a mechanical device into which discs are inserted, they can collect dirt. If the optical drive has been in use for a while, it may simply need cleaning. One method of cleaning is simply open the drive's door and blow in compressed air. If that fails to produce results, you can use a cleaning disc.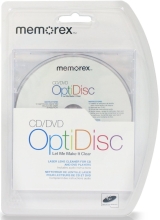 Many people have had good luck with Memorex's laser very low cost lens cleaner disc. It has six little brushes on the disc designed to gently remove dust and dirt from your optical drive's lenses. However, if cleaning the optical drive does not solve the problem, this video shows how to replace it. It's amazingly easy.
Warning: Avoid static discharge by grounding yourself using a wrist strap or by touching a bare metal surface like a connector on the back of the laptop and remove all of the power including the battery and power adapter.
Make sure all data is backed up before removing or replacing your hard drive. Laptop hard drives are very sensitive and can be damaged easily. Handle with care. Performong your own repairs may void your warranty.
Transcript
1. Slide the latch to the right, and lift the battery out.
2. Remove the optical drive locking screw.
3. Using a screwdriver, slide the optical drive tab to the right.
4. Slide the optical drive out of the laptop.
5. Slide the replacement optical drive in to the laptop.
6. Replace the optical drive locking screw.
7. Place the battery into the laptop and press down until the latch locks into place.
---
Parts-People Specializes in repairing Dell laptops. They do not offer parts or service for any other manufacturer. Although they are not affiliated with the Dell Computer Corporation, they have been specializing in Dell Laptop parts and Dell laptop repair services for ten years. Parts-People also offers Dell laptop repair at our 14,000 square foot facility in Austin, Texas. They keep a large inventory of Dell laptop parts and refurbished Dell laptops so they can replace your Dell computer if it cannot be repaired.
More Windows Troubleshooting Articles:
• Video - Dell Laptop Optical Drive Replacement Tutorial
• Printer Troubleshooting
• Undoing a Windows Update
• Computer Repair with Diagnostic Flowcharts
• Wireless Router Problems and Solutions
• Windows 10 Built-in Troubleshooters
• Windows Takes Too Long to Start
• How to Fix RpcRtRemote.dll Errors
• Why Don't I Get Sound From My PC?
• How To Fix AppHelp DLL Errors On Your PC