FREE Software - My Control Panel
My Control Panel is an alternate interface to the Windows Control panel. Rather than needing to figure out which tab on which Control Panel utility should be used to accomplish a particular task, My Control Panel displays a list of tasks. Simply click on the task you wish to accomplish and the appropriate Control Panel utility will open to the specific tab required. This makes Windows configuration much easier.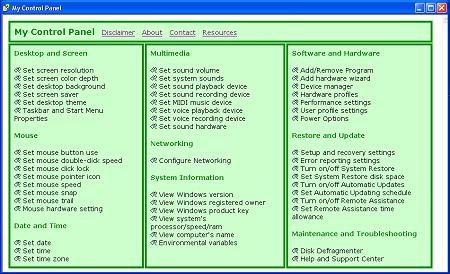 My Control Panel is an HTML application (.hta) with links to short cuts to each tab in each Control Panel utility. Control Panel utilities generally provide a safer way to modify the Windows registry. However many Control Panel utilities allow you to modify system configurations, so their use can be dangerous. My Control Panel is no more, nor no less, dangerous than the standard Control Panel.
My Control Panel provides links to most Control Panel utilities. It also provides links to Windows built-in Disk Defragmenter and Windows built-in Help and Support Center for maintenance and troubleshooting purposes.
The file is a compressed archive. To expand the file you will need a zip file expander. The most popular zip file expander for Windows is WinZip.
To download My Control Panel, click here: Download Now When the File Download dialog box appears, click on the [Save] button.
Please link to this webpage, not directly to the mypanel.zip file because the mypanel.zip file will be moving and you'll end up with a dead link. This webpage will always provide a link to the most recent version of My Control Panel.