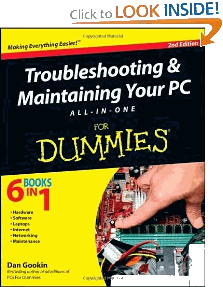 This straightforward guide shows you how to diagnose and solve the most common hardware and software problems your PC may encounter. Like any dummies title, this book is written in a humorous and entertaining manor, but it treats serious troubleshooting issues with respect.
This book doesn't assume you're a computer expert, it doesn't get excessively technical. This book never disrespects you as a reader. It's entirely possible to be smart and not know a darn thing about how a computer works. Anyone can read and understand this book well enough to fix their computer.
Click here for more information.