Hacking Windows Vista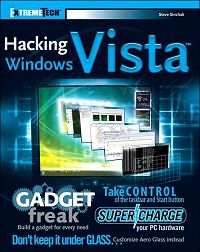 Microsoft has poured millions of person-hours into Windows Vista. Guess what: A few hours of your own time could make it a whole lot better - more convenient, more efficient, faster, more secure, and less frustrating. Steve Sinchak proves that in Hacking Windows Vista.
Sinchak has earned Microsoft's elite MVP designation and hosts the hugely popular TweakVista.com. His previous book, Hacking Windows XP, quickly became the No. 1 book ever released in the ExtremeTech series, and it deserved the plaudits it received. Here, he's gone back to the drawing board, returning with an enormous collection of great ideas for Vista power users.
Take, for instance, his comprehensive coverage of understanding system performance and then improving it. (Typically, without spending a dime. But even those rare techniques which aren't free are still quite cheap - such as giving Windows more memory via a ReadyBoost-compliant USB key).
There's a full chapter on speeding up system boot (Vista's Boot Manager gives you 30 seconds to choose an operating system before it loads Vista, but what if you always choose Vista?) Oh, and do you really need to load all those programs in your startup folder, including that maddening RealPlayer Message Center? We highly doubt it.)
But performance is just one area Sinchak focuses on. He reveals great interface customizations for new Vista features like Aero Glass and Windows Sidebar; shows how to change your right-click Send To menu; even walks you through creating multiple home pages in IE7 (when you open your browser, each page opens in a separate tab.) He walks you through everything from customizing Windows Media with virtual surround sound to improving your system's privacy. This is one Vista book that'll keep paying dividends for years to come.
Contents:
Customizing the Look of the Startup
Customizing User Navigation
Hacking the Desktop
Customizing the Appearance of the Windows Interface
Hacking Windows Explorer
Hacking Internet Explorer 7
Hacking Windows Media
Increasing Your System's Performance
Analyzing Your System
Speeding Up the System Boot
Making Your Computer Log On Faster
Speeding Up Windows Explorer
Optimizing Windows Core Components
Speeding Up Your Web Browser and Network Connection
Securing Your System
Windows Security
Internet Security
Protecting Your Privacy