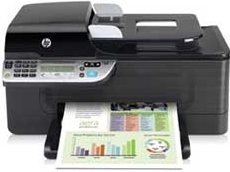 HP Officejet 4500 Wireless all in-one
print, copy, scan, and fax
list $129.99 price: $74.99
Wireless printing can be extremely useful but is difficult to set up across different platforms. Printers that can be networked come with either a network adapter (which can be simply directly plugged into a wireless router) or a wireless adapter (in which case a router is not essential if you are prepared to use ad-hoc mode).
Ad-hoc mode is a wireless networking mode in which wireless devices that are within range of each other discover each other and communicate to set up a peer-to-peer network. This means you don't need a central access point. To set up an ad-hoc wireless network, each wireless device must be configured for ad-hoc mode and must use the same SSID and the same channel number.
1. Make sure your PC contains a wireless adapter preferably already configured to connect to your router.
2. Make sure your printer contains a wireless adapter or if the printer contains a network adapter setting it up is as simple as plugging the printer into your wireless router (if you don't have a router you can use ad-hoc mode but this monopolizes your wireless adapter in your PC).
3. You need to connect your printer (as you would any other wireless personal computer or device) to your wireless router (or AirPort if its a Mac), so turn both the printer on and router (if you have one) on.
4. Can your printer detect your wireless router? If your printer doesn't have a small screen you'll probably have to plug it into your PC (via USB) and set it up to connect to the network via your PC. If your printer has a small screen it should recognise any wireless routers within range (these might be called airport, belkin, buffalo, d-link, linksys, netgear, verizon or zoom). If it cannot make sure your router is configured to accept all devices which try to connect (with the correct password) not just your PC. Some routers are set up to filter all but one device (your PC). Check also your router is broadcasting its address publicly.
5. Once your printer has detected your router, you need to connect to it with the right security. If you have an open router without security settings (keys, passwords etc.) simply choose to connect on your printer. Some printers have a button which attempts to automate this. If you have security on your router then go to your printer and enter any keys or passwords you have set. You may need to tell the printer the type of security you have set (WEP, WPA, WPA2 etc.) on your router if it is not automatically detected.
6. Now your printer is connected, you can turn on your PC and provided you have set up a wireless network in the past and your PC has connected to your router, then the printer should be available as a Network Device / Network Printer / Print server.
---
Article source: wikiHow is a group effort to create a great resource: the world's largest free how to manual. wikiHow articles help people solve their everyday problems. wikiHow licenses all content under a Creative Commons License. The license allows wikiHow content to be used freely for noncommercial purposes. The Creative Commons License also allows for the creation of derivative works.

Learn more at amazon.com
More Maintain and Upgrade Your PC Articles:
• Windows Vista Upgrade - What to Watch Out For
• How Power Surges Can Smoke Your PC
• Webcam Basics
• How to Clean the Junk Files in Your PC
• Reloading Windows XP
• FREE Software - My Control Panel
• How to Update Your Computer's BIOS
• A Quick Guide to Wireless Networking
• Be the Master of Your Printer
• Free Registry Cleaner to Speed Up Windows