Free Registry Cleaner to Speed Up Windows
The Windows registry is a database that stores settings and options for the operating system. It contains configuration information and settings for all the hardware, software, and users on the system. Whenever a user makes changes to Control Panel settings, file associations, system policies, installed software, or preference settings, the changes are stored in the registry.
The registry can become bloated with invalid information left behind by uninstalled hardware and software, and by missing files and drivers. The Windows operating system reads the registry each time the system starts and reads it repeatedly during the systems's operation. A bloated registry can cause your PC to operate sluggishly, become unstable, and crash frequently.
Manually maintaining the registry would be a complex and tedious task only for the most skilled technician. However with TweakNow's free RegCleaner utility, registry maintenance is an easy task for the average PC user. RegCleaner Standard edition is free for non-commercial use and is compatible with Windows 98/Me/2000/XP/2003.
• Microsoft's own registry cleaner (called RegClean) is not supported by Microsoft and in fact it causes errors with Microsoft Office Products.
RegCleaner finds invalid registry entries related to:
• ActiveX/COM objects
• Device Drivers
• Installed Fonts
• Help Files
• Shared Files
• Starup Files
• Uninstall Files
• Sounds and Application events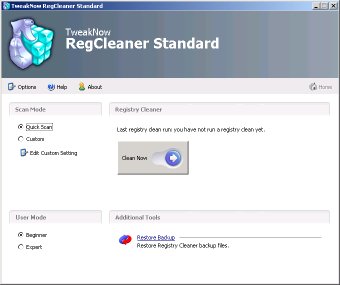 Download the 1.1 MB installation file RegCleaner2.exe from TweakNow. Then double-click on the file name to start the install program.