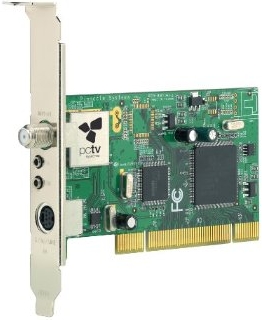 The Pinnacle PCTV HD Card brings Standard and High Definition TV with full personal video recorder (PVR) functionality to your PC - with no desktop clutter. Watch, time shift and even automatically record all of your favorite TV shows with no service fees.
The PCI TV Tuner card fully supports both analog (NTSC) and digital (ATSC) TV signals; the TV tuner hardware is also ready for ClearQAM (unencrypted digital cable). Record programs on your hard drive in MPEG-2 or DivX or even direct-to-DVD. Pause, rewind and fast-forward live TV with time shifting. Capture SD video from a camcorder or set-top box using the included adapter cable.
Supports the following TV Standards:
• ATSC (HDTV up to 1080i, SDTV)
• NTSC (cable, over the air)
• ClearQAM (HDTV up to 1080i, SDTV)

Inputs:
• TV antenna input (F- connector/Coaxial)
• FM antenna input
• S-Video
• Composite Video (RCA)
• Stereo Audio (2 x RCA)
Recording Formats:
• MPEG-1/2
• DivX.
System Requirements:
• Windows Vista (32-bit) or Windows XP with latest service pack
• Intel Pentium 4 2.4 GHz, Pentium M 1.3 GHz or AMD Athlon 64 processor (for HDTV reception, a Pentium 4 2.8GHz or Pentium M 1.7 GHz or equivalent AMD Athlon 64 processor is recommended)
• RAM: Windows XP – 256 MB (512 MB recommended); for Windows Vista – 512 MB (1 GB recommended)
• Free PCI rev. 2.3 slot
• Sound&grasl;graphics controller with support for DirectX 9
• Hard drive with minimum 1 GB free space (20 GB recommended for TV recording)
• DVD player/burner
• Internet connection for registration/activation
• High-gain indoor or rooftop aerial and/or connection to an existing cable TV jack (coaxial cable).
Package Contents:
• PCI TV tuner card for for ATSC, ClearQAM, NTSC and FM radio reception
• Mini remote control including batteries
• Remote control receiver
• cable FM radio antenna
• A⁄V Adapter Cable
• Printed quick start guide
• CD with Pinnacle TVCenter Pro and VideoSpin editing software
Marvin Protoss of Barbados says, "I knew when I purchased this product I would have no disappointments. I had and purchased Hauppauge products before and living it up now. This Pinnacle PCTV installed easy and worked remarkably. Hauppauge is affilliated with this product by hardware while Pinnacle handles the software to my knowledge. Make note the product software was made for and works with XP and Vista (only). The driver portion did not properly install in windows 2000 and the TV Center software does not at all install in 2000. GREAT PRODUCT AND GREAT PRICE
Pinnacle PCTV HD PCI Card user Dominicius says, "This capture card is a great "budget" card. The quality of picture is beautiful with mythtv. I have yet to install the software included with the card, however I have a the 801se USB and the software looks the same. A good choice for a dual SD/HD card. Click here for more information.

Learn more at amazon.com
More Maintain and Upgrade Your PC Articles:
• Disable Windows Automatic Update
• Avoid Cancer by Using USB Wired Keyboard and Mouse
• Uninterrupted Power Supply (UPS) - Backbone of Your Small Business
• An Uninterruptible Power Supply Can Save Your PC
• Using Your PC as a Home Theater
• Printer Cartridge Price Fixing
• Vista Product Activation
• Four Tips to Finding Quality PC Cleaner Software
• Upgrading Your Memory to Improve Performance
• How to Update Your Computer's BIOS