Annoyed by Window's constantly nagging pop-up messages? Windows 7 Action Center lets you decide which Windows 7 alerts you see and which you don t. Action Center monitors many system security and system maintenance features of your computer and if the status of a monitored item changes - for example, if your antivirus software becomes out of date - Action Center notifies you with a message in the notification area on the taskbar. The difference is that Action Center lets you decide which alerts you see and which you don t.
To set which items Action Center monitors and sends alerts for, in Control Panel under the System and Security group, click on Action Center.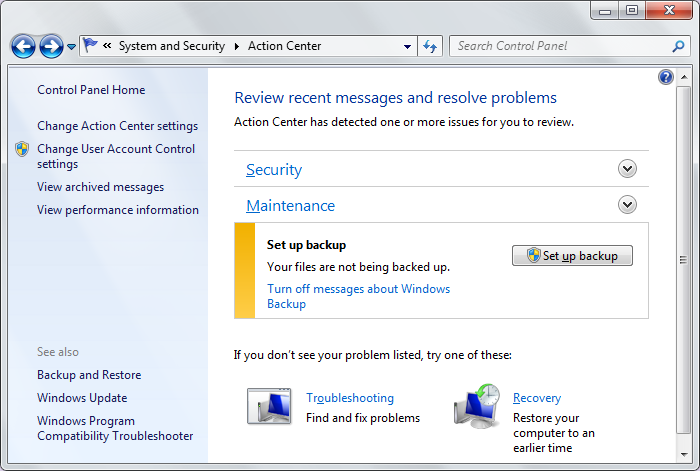 The two areas that the Action Center monitors are shown on this page. Click on one of the down-arrows to see a further breakdown of each area. If there is a problem with one of the features, it will be displayed here, for example this computer needs a backup method defined.
In the left panel of this window, click on Change Action Center settings.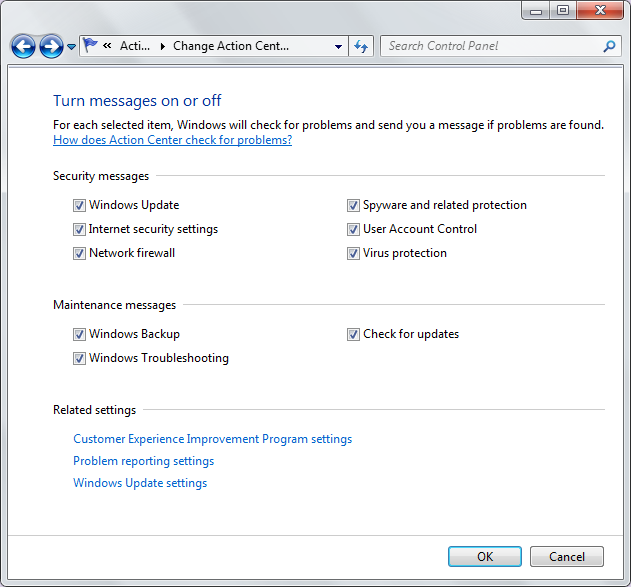 To prevent Action Center from monitoring and sending alerts for an item, clear the check box next to the item. To tell Action Center to monitor and send alerts for an item set the check box next to the item. When you have cleared or set all items as desired, click on the [OK] button.
If you prefer to handle a security or maintenance feature yourself, for example if you perform your own backup, you can turn off Action Center's monitoring and notifications for that feature. If later you decide that receiving notifications for that feature are important, you can always turn it back on.
Note at the bottom of the Action Center settings page are some links to other related Windows settings.

Learn more at amazon.com
More Maintain and Upgrade Your PC Articles:
• Wireless Router Setup
• Free Registry Cleaner to Speed Up Windows
• Decrapify Your PC
• Printing Troubleshooting Guide
• How to Backup Your Hard Drive
• Free Download Patch My PC Checks for Available Patches
• FREE Software - My Control Panel
• Five Maintenance Tips to Resolve Your PC's Performance Issues
• Watch and Record Standard and High Definition TV on Your PC
• Do We Really Need Windows Vista?