How to Update Your Computer's BIOS
A computer's Basic Input-Output System (BIOS) is embedded software on a motherboard that will control attached hardware. It provides an operating system with information about hardware, and is designed to support a specific range of components. The BIOS itself is typically an EEPROM, or Electronically Erasable Programmable Read-Only Memory, that is programmed with "firmware" and has the ability to save small amounts of information specific to user configurations. BIOS components are often soldered to the motherboard and therefore not serviceable by the user. Still some of these can be inserted into a socket, allowing its replacement.
All BIOS components are serviceable via a firmware upgrade that is known as "flashing" this process is called "updating the BIOS". The process itself is fragile since any power fluctuation during a flash may irrevocably corrupt a BIOS' firmware. Great care will need to be taken in order to safely accomplish this.
This guide will help you flash your BIOS by taking precautions and walking you through each step. Not all computers will have the same BIOS manufacturer, let alone the same process, but many have similar steps and precautions.
1. Determine your needs. Did someone help you update the BIOS last month? Maybe the BIOS has never been updated since you purchased your PC years ago. Did you discover an updated version will fix a problem you are experiencing? Answers to these questions will help determine if you need to verify version numbers and whether an update is necessary. Not all BIOS updates are necessary, but for the hardware enthusiast, obtaining the latest BIOS may equate to better performance.
2. Determine your system's origins. This is an important first step to determine where to locate and download the correct BIOS update version.
• For desktops, did you purchase this computer as a bundled, pre-built system, or was it assembled from purchased components? The larger, more popular manufacturers and builders include companies such as Dell/Alienware, HP/Compaq, IBM, Lenovo, Sun, Gateway, etc. For these, visit the manufacturer's site. For a custom system built from purchased components, visit the motherboard manufacturer's website.
• For laptops, visit the laptop manufacturer's site, such as Dell/Alienware, HP/Compaq, Acer, Toshiba, etc.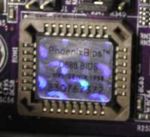 3. Discover what update methods are available. Not all BIOS updates are performed in the same manner. The desktop or laptop system or motherboard manufacturer determined in the steps above provide support information about BIOS update methods they offer. Some motherboards can be updated by executing a program from the operating system level after booting from the hard disk. In other cases the system must be booted from a floppy disk; CD or USB thumb drive (using software supplied by the system or motherboard vendor).
Some manufacturers will use their own custom application to update the BIOS, others will use a third party utility to update the BIOS while booted from the legacy DOS operating system. The latter may be split into two different files, or bundled together as a CD or floppy image with an extracting application. Download the appropriate updating software and BIOS from your manufacturer's website.