FREE Ebook - How to Speed Up a Slow Windows Computer for Free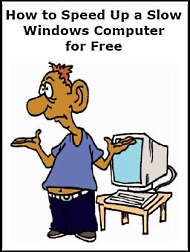 Does your computer run slower than a 69 AMC Gremlin? Before you toss it out that second floor window try a few things suggested in this ebook. There are many things that can make a computer run slow, and most of them can be easily fixed by you.
Contents
• 1. Learn the basics
• 2. Do a shut down⁄reboot
• 3. Empty the Recycle Bin
• 4. Uninstall unneeded applications
• 5. Run Error Checking on all hard drives
• 6. Run Defragment on all hard drives
• 7. Run CCleaner
• 8. Install anti-virus software
• 9. Relocate the Swapfile or Virtual Memory file
• 10. Find and Delete Temporary Files
• 11. Add memory
• 12. Replace your main hard drive
• 13. Be realistic
• 14. Restore the original operating system
• Plus many more tips
You can shut down unneeded applications running in the background. You can fix errors on, and defragment the hard drive. You can delete unnessecary entries in the registry. You can delete temporary files and empty the recyle bin. There are many other things you can do yourself to speed up Windows, and this ebook tells you how.
More Maintain and Upgrade Your PC Articles:
• FREE Ebook - How to Configure and Maintain Your PC
• Installing An Optical Drive Guide
• How to Backup Your Hard Drive
• Reloading Windows XP
• Configure Windows Defender on Windows 10
• FREE Ebook - How to Speed Up a Slow Windows Computer for Free
• Be the Master of Your Printer
• Vista Product Activation
• How to Upgrade Your PC's Graphics Card
• What's the Difference Between DDR1 DDR2 and DDR3?