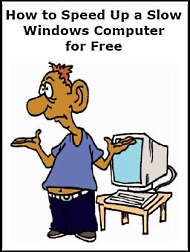 Does your computer run slower than a 69 AMC Gremlin? Before you toss it out that second floor window try a few things suggested in this ebook. There are many things that can make a computer run slow, and most of them can be easily fixed by you.
Contents
• 1. Learn the basics
• 2. Do a shut down⁄reboot
• 3. Empty the Recycle Bin
• 4. Uninstall unneeded applications
• 5. Run Error Checking on all hard drives
• 6. Run Defragment on all hard drives
• 7. Run CCleaner
• 8. Install anti-virus software
• 9. Relocate the Swapfile or Virtual Memory file
• 10. Find and Delete Temporary Files
• 11. Add memory
• 12. Replace your main hard drive
• 13. Be realistic
• 14. Restore the original operating system
• Plus many more tips
You can shut down unneeded applications running in the background. You can fix errors on, and defragment the hard drive. You can delete unnessecary entries in the registry. You can delete temporary files and empty the recyle bin. There are many other things you can do yourself to speed up Windows, and this ebook tells you how.

Learn more at amazon.com
More Maintain and Upgrade Your PC Articles:
• FREE Ebook - How to Configure and Maintain Your PC
• Why Not Defragment Your Hard Disk Today?
• Upgrading Your Memory to Improve Performance
• DIY Disk Cleanup Program No Tech Need, No Tool Need
• Partitioning Your Hard Disk
• How to Use Windows Defender
• Guerrilla Overclocking Primer
• Satellite Internet Service Basics
• How To Properly Install A New Motherboard
• Installing Memory