How to Clean the Junk Files in Your PC
Junk files are the unwanted or useless files that accumulate in your personal computer or laptop over time. They could use up valuable memory space that would lead to your personal computer becoming ever so slow. These unwanted documents or items could affect the total performance of your PC. Finding them manually is impossible as they could be residing anywhere in your computer. You could run a quick scan in your PC and discover how many gigabytes of unwanted files you have on your hard drive.
How do you acquire these junks in your PC?
Unwanted items, folders or programs are actually temporary records designed to back up your work every time you use your computer. So if you use your Word program for instance, a temporary record is created to make your work smooth and to protect it from loss. When you are browsing the internet, various details about the sites you visited are stored in the browsers: "Cache, History and Cookie".
Installing and uninstalling useless or unnecessary programs would cause traces of these files to remain in your PC in the form of junk. However, these temporary items are not automatically deleted when you shut down your PC. They accumulate and cause speed problems in your PC as they take up memory space. Therefore, frequent clean up is a must to maintain the speed and performance of your PC. Plus, the memory space would be available for use to more valuable programs.
As these junk items reside everywhere, there would be several places you could delete them from. Here are some of the things you could do: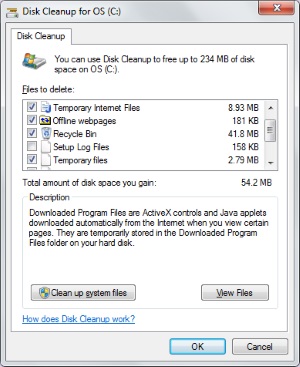 1. Generally, you could do the following steps: Click the Start menu. Under All Programs, choose Accessories and under that, System Tools. The Disk Cleanup sould appear. From the selection, choose the drive from which you would like to clean up the junk folders in your PC. Press "OK".
These are the programs or folders you could select to delete in the Disk Cleanup tab.
• Temporary Internet Files
• Offline Webpages
• Recycle Bin
• Temporary Files
Note: deleting the items in the Recycle Bin is a permanent action. Therefore, the deleted items would not be recovered anymore. You may prefer to just delete them one by one. Do not press the delete button in the files you think might be of use to you later on.
2. You could also uninstall any program that you no longer use or need. Simply click Start menu. Press the Control Panel icon. Choose the Add/Remove Programs. From the list, you would see the programs that you do not use anymore. If you are not sure, you could also check the importance of that particular program by checking the "Last Used On" tab to see how frequently you use that program. Then, uninstall the unused or unwanted programs.