Working With the Registry
The Registry is the central database for everything about your computer. It stores configuration information about the operating system, hardware, software, and types of files on the computer.
The registry database consists of "keys" and "values". A key is a "place" to store a value. A key may store many values, or it may have subkeys, each which store values. The Windows 2000 registry has five top level keys as listed below.
| | |
| --- | --- |
| HKEY_LOCAL_MACHINE | Hardware configurations |
| HKEY_CURRENT_CONFIG | Operating system settings |
| HKEY_CLASSES_ROOT | Files types and software objects |
| HKEY_USERS | All users configurations |
| HKEY_CURRENT_USER | Currently logged in user configurations |
The Registry is normally modified through Administrative or Control Panel utilities, but it is possible to edit the Registry directly. Making an incorrect modification to the Registry can cause your computer to fail to start, so it's wise to backup the Registry before making any changes.
To backup the registry, you can export it to an ASCII file with the .reg extension. You can export the Whole Registry or just a branch of the Registry. First select or create a folder where you would like to save the exported registry. To export the Registry, open the Registry Editor program by selecting Start | Run and typing regedit in the Run dialog box.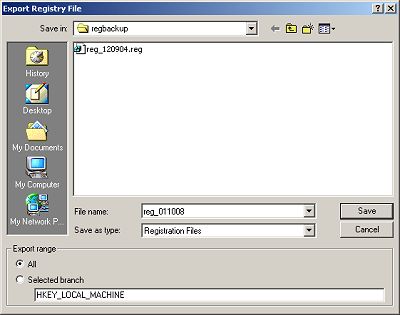 In the Registry Editor programs Registry menu, select Export Registry File... In The Export Registry File dialog box, navigate to the folder where you would like to save the exported registry. Then enter a name for the exported registry file (for example reg_date). Make sure the Save as type: drop down list has Registration Files selected. This will automatically add the .reg extension to the file. In the Export Range section, set the All radio button. Then click on the Save button.