How To Refill Your Ink Cartridge
Forget about emptying your wallets every time you see the blinking light. Quit worrying and start doing it yourself! Itís an easy process that won't take you more than five minutes.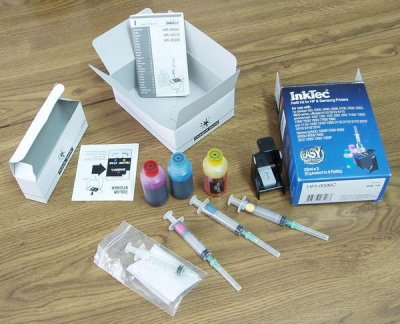 The following is included in a typical ink refill kit: ink bottles, syringes and detailed instructions. Some kits include an air balance clip for balancing the air inside the cartridge to ensure proper ink flow. Some kits also include hand-drill tool to make a hole in the top of your empty cartridge.
Refilling Process
1. To start the refilling process, fill the syringe with one of the ink colors over the sink or several sheets of scrap paper to prevent any mess. Different printers hold different amounts of ink. In most Epson printers, the black cartridge holds approximately 17 ml and the color cartridges hold approximately 8 ml. See the instructions with your refill kit to see how much ink your cartridges can hold.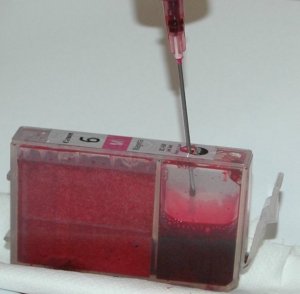 2. Before inserting the needle, make a small hole in the top of the cartridge (one for each color chamber). The hole is at the top of the cartridge near the label. Simply push the needle through the hole and press to the bottom of the cartridge towards the outlet hole. Itís important to fill the cartridge slowly so as to avoid the ink from foaming and introducing air in the chamber.