Better Archiving and Extracting Tool
The ZIP file archiving and extracting algorithm was released to the public domain by its inventor Phil Katz in January 1989. Nico Mak Computing tried to make a buck off it by slapping a graphical user interface on it on and selling it as shareware. I've used WinZip for many years, but as I noted more and more aggressive money grabbing tactics associated with it, I avoided upgrading to the latest version.
Now, I've heard that when you install WinZip it sneaks Uniblue Registry Booster and the Google Desktop and Toolbar past you. WinZip costs $29.95 to register after a 45-day trial. You can get the full version free if you complete a TrialPay offer. No thank you - it's time to dump WinZip.
7-Zip is a free open source archiving and extracting tool with a graphical user interface that works with Windows 98/ME/NT/2000/XP/Vista. There's a command line version that works with Linux/Unix. You can use 7-Zip on any computer, multiple computers, even for commercial use.
Here's how to download, install, and use 7-Zip;
1. go to 7-zip.org and click on the download link for .exe to download the setup program to your desktop.
2. double-click on the setup program icon to start 7-zip setup.
3. Setup displays c:\Program files\7-zip as destination folder. Click on the [Install] button.
4. After a second the setup programs displays the "Completing Setup" message. Click on the [Finish] button.
The setup program does not put an icon on your desktop. If you desire a desktop icon, in Windows File Manager, navigate to the folder c:\Program files\7-zip and drag a 7-zip file manager (7zFM.exe) shortcut to your desk top.
To Create an Archive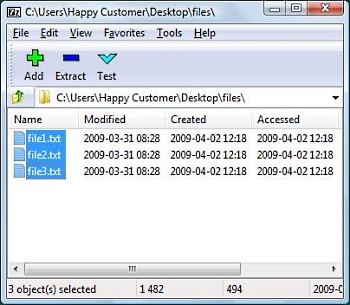 1. Open the 7-zip file manager and, using the address bar, navigate to the folder containing the files that you want to place in the archive.