Stop the Slaughter of Innocents. Congress is bought and paid for by gun lunatics and gun promotion groups. If you want to live in a safe America, help buy Congress back for America. Send a donation to Mayors Against Illegal Guns, 909 Third Avenue, 15th Floor New York, NY 10022
HTML5 Solutions: Essential Techniques for HTML5 Developers
HTML5 brings the biggest changes to HTML in years. Web designers now have new techniques, from displaying video and audio natively in HTML, to creating realtime graphics on a web page without a plugin.
This book provides a collection of solutions to all of the most common HTML5 problems. Every solution contains sample code that is production-ready and can be applied to any project.
Cascading Style Sheets Quick Reference
This section is a Cascading Style Sheets (CSS) quick reference. It provides quick basic descriptions of how to do things with CSS. It is not a comprehensive tutorial, nor is it a definitive reference.
For simplicity, most of the examples show how to set style using the inline method. You should be able to easily convert these to embedded or externally linked declarations.
CSS provides the page design capability for the Web that print publishing has been enjoying for years. Style sheets give you accurate control over page layout and positioning, advanced font control, and color control. With style sheets, you can specify text sizes and spacing between lines (leading) in points.
CSS separates the typographics and page layout from the content of Web pages, making it much easier to revise your content or change your page design. With CSS, you can change the formatting of individual Web pages or your entire site without editing every single HTML tag in every single file.

RSS Feed
Web Design Sections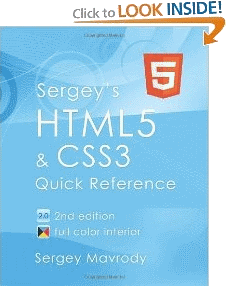 This book is an essential technical dictionary for professional web designers and developers, conveniently summarizing over 3000 pages of (X)HTML5 and CSS3 specifications and covering the most common and fundamental concepts and specs, including tags, attributes, values, objects, properties, methods, events, and APIs.
Web Designer Manu Gautrand says,"It's easy to find what you are looking for and most tags⁄properties have good code examples and specify in what browser versions the tag is supported. Click here for more information.