MPO
The term MPO stands for Multi-fibre Push On and is a specific interface type. The MPO interface was developed to enable multi-fibre connectivity for higher density, higher bandwidth based applications requiring parallel or channel based optics. 12 and 24 fibre versions are currently used to direct connect into 40GbE and 100GbE transceivers and also used in high density fibre distribution areas. Higher fibre versions are also available (48, 72 fibre) but their use and deployment is currently limited.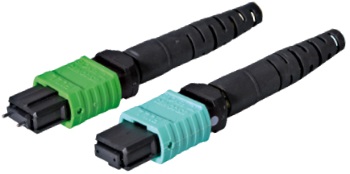 MTP and MPO connectors feature male and female connector design. Male connectors have two guide pins and female connectors do not. Both connector types need an adapter to mate a pair of male and female connectors. MTP is a registered trademark of US Conec. The MTP design complies with the MPO standard.
The MPO interface is primarily defined by the IEC standard 61754-7 and TIA-604-5 9 (US). These standards respectively cover the mating capabilities of devices and passive components when using a multi-fibre connector of this type.
MTP®
The MTP connector is specifically a brand of MPO interface connector that is owned by the leading US based optical R&D company US Conec. Like MPO it is based on the MT (mechanical transfer) ferrule technology which was developed by Nippon Telephone and Telegraph (NTT) during the 1980s.
The MTP (Mechanical Transfer Push On) connector is widely recognised as the highest performing MPO connector in the market due to a number of unique and patented mechanical features that significantly stand out from those of a standard MPO connector. US Conec comments that the MTP connector is "a high performance MPO connector with multiple engineered product enhancements to improve optical and mechanical performance when compared to generic MPO connectors."
As an example, some of these key primary enhancements are described below;
• A floating ferrule that aids in accurate alignment and improves performance of mated ferrules under stressed load conditions.
• Elliptical guide pins that allows for better alignment by improving mating guidance and reducing hole wear.
• Removable housing allowing for smoother transition of gender types in the field and easier access to performance testing and re-work of the MT ferrule.
• The MTP connector has a metal pin clamp that centres and guides the push spring. his feature eliminates lost guide pins, centres the spring force and eliminates damage to fibre cables from the spring.
• The MTP connector spring design maximizes ribbon clearance for twelve fibre and multi-fibre ribbon applications to prevent fibre damage.
• The MTP connector is offered with four standard variations of strain relief boots to meet a wide array of applications. Available to meet a variety of cable constructions, round, loose micro core oval jacketed, bare ribbon and short boot options, all of which are ideal for use in space limited applications.
The MTP connector is currently available in 4, 8, 12, 24, and 72 fibre densities for multimode fibre (50µm and 62.5µm core) and 4, 8, 12, and 24 fibre densities for single-mode fibre, as well as the MTP Elite (low-loss) single-mode connector in both 8 and 12 fibre densities.
It is also important to note that the MTP connector complies with the MPO standard as outlined in IEC standard 61754-7 and TI-604-5 and is therefore a fully compliant MPO connector and can interconnect directly with other MPO based infrastructures.
Use of Generic MPO Connectors vs MTP Connector
Independent verification and tests have continually re-enforced the MTP connector as offering superior over-life performance when compared to standard MPO connectors. This higher performance has resulted in wide adoption, not just by fibre cabling manufacturers, but also by switch, server and storage manufacturers.
Connecting to equipment with MTP connectors is best done using optical fibre cables with MTP connectors, although other MPO cables are likely to work but may not offer the same performance.
It is possible to connect cables from different cabling manufacturers that use the MTP connector in their range. However, a detailed understanding of how the polarity is managed within each manufacturer's product range is required.
What to remember
It's very simple to understand really in that if you are discussing, commenting or specifying the use multi-fibre connectors.
• MPO is an interface type. There are many connector manufacturers to choose from to get this connector.
• The MTP connector is one type of MPO connector. It is a brand owned by US Conec and used by most active equipment manufacturers and cabling companies.
• There is an internationally recognised standard for MPO connectors.
• MTP is fully compliant with the requirements of MPO standards.
• If you are looking to connect to you active equipment (such as CISCO) then a cable with MTP connectors will give you the best over-life performance. Other MPO connectors should also work, but may not perform to the same level.
---
Tony H Mackenzie has over 15+ years of domestic and international business and partner development experience in delivering fibre optic and networking connectivity solutions within high performance, high density environments. Complete Connect

Learn more at amazon.com
More Networking Topologies Articles:
• What are OFNP, OFNR, OFNG and OFCG? Understanding Fiber Optic Cable Fire Ratings
• Understanding Basic Terms in Indoor Fiber Optic Cable Installation
• Network Hubs
• Trunking, Bonding, Aggregation; What Does it Mean?
• Fiber Media Converter - What's the Use and How to Choose It
• Ethernet Bridges
• Token Ring Network
• Understanding Wireless LAN Networking
• Understanding the Basics of All-Optical Switching
• Fiber Distributed Data Interface