Learn more at amazon.com
What are fiber media converters?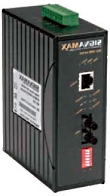 10/100BaseTTX
to 100BaseFX
Media Converter
Fiber media converters are used to convert electrical signal to light signal and vice versa. They are basically used as network extenders to extend the distance from several hundreds of feet to several thousands meters. They are perfect for linking networks between campus buildings.
The electrical signal can come from thick coax cable, UTP cable, and STP cable, etc. The light signal can be carried via single mode fibre and multimode fibre depending on your distance requirement.
What types of fiber media converters are available?
1. 10BaseT, 100BaseT, 1000BaseT Ethernet to Fiber Converter
Fiber media converters are used to connect multiple LANs to form a large campus area network. At the most, they can extend the reach of LAN over single mode fiber up to 130km.
Other UTP-to-fiber converters have redundant link functions. They not only extend the network over fiber, they can also switch communications to a backup link automatically if the primary link is broken.
2. T1 / E1 to Fiber Converter
T1 / E1 fiber media converters are available to provide T1 / E1 copper to fiber conversio to extend T1 fiber distances up to 100km. They support AMI or B8ZS / HDB3 modes and have a RJ45 / RJ48 port. They can support both multimode and single mode fibers.
3. Serial Copper to Fiber Converter
Serial to fibre converters support X.21, RS-530, RS-232, RS-422, RS-485 applications featuring several configuration modes to enable connections with a wide variety of devices. They transmit serial protocol over fibre. Some even have remove fibre loop-back switch for testing of fibre link, even during serial transmission.
4. Fiber Mode Converter
Fiber mode converter converts from single mode fibre to multimode fibre and vice versa. It provides transparent conversion between these devices. This converter regenerates signal from multimode fiber and is used to extend the distance up to tens of kilometers via single mode fiber.
5. Media Converter Chassis
If you only need to convert between two systems, such as from 1000BaseT to fiber, a stand alone fiber media converter is enough. However, if you need to convert many cable types, then you probably would want a converter chassis. The chassis houses everything in one place. They even provide internal power supplies.
---
Colin Yao has over 15 years expertise on fiber optic telecommunication technology and products. Learn even more about fiber media converters and fiber to copper converters on Fiber Optics For Sale Co. web site.

Learn more at amazon.com
More Networking Topologies Articles:
• Data Center Management Best Practices
• Difference Between Unmanaged, Web Smart and Managed Switch
• Spanning Tree Protocol (STP) Operation
• Troubleshooting Your Optical Fiber Networks - Introduction to OTDR
• What are OFNP, OFNR, OFNG and OFCG? Understanding Fiber Optic Cable Fire Ratings
• The Complete Guide to Fiber Optic Connectors
• Wireless Networking
• The IEEE 802.3 Ethernet Standards
• Introduction to ATM (Asynchronous Transfer Mode) Networks
• What is an Ethernet Bridge?