MPLS is growing in popularity as a WAN technology used by service providers. This growth in popularity is due in part to MPLS's capability to support multiple protocols on the same network - for example, an MPLS network can accommodate users connecting via Frame Relay or ATM on the same MPLS backbone - and MPLs capability to perform traffic engineering (which allows traffic to be dynamically within an MPLS cloud, based on current load conditions of specific links and availability of alternate paths).
MPLS inserts a 32-bit header between Layer 2 and Layer 3 headers. Because this header is shimmed between the Layer 2 and Layer 3 headers, it is sometimes referred to as a shim header. Also because the MPLS header resides between the Layer 2 and Layer 3 headers, MPLS is considered to be a Layer 2 1/2 technology.
The 32-bit header contains a 20-bit label that is used to make forwarding decisions within an MPLS cloud. The process of routing MPLS frames through an MPLS cloud is referred to as label switching.
Figure 2-3 shows a sample MPLS network. Table 2-1 defines the various MPLS network elements shown in the figure.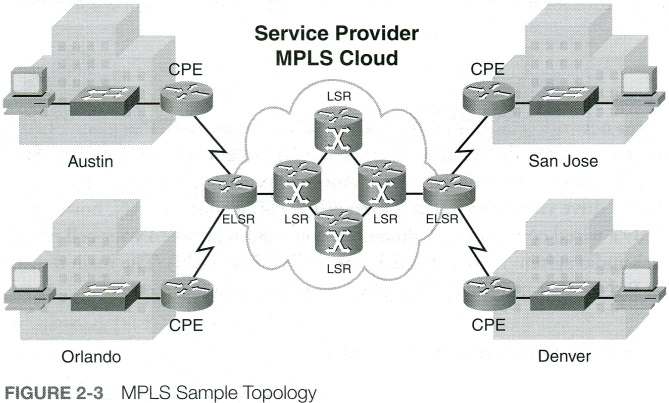 | | |
| --- | --- |
| Element | Description |
| CPE | A customer premises equipment (CPE) device resides at a customer site. A router, for example, could be CPE that connects a customer with an MPLS service. |
| CE | A customer edge (CE) router is a customer router that provides the connectivity between the customer network and the service provider network. CE routers use static or dynamic routing protocols but do not run MPLS. The MPLS function occurs in the service provider network. |
| ELSR | An edge label switch router (ELSR) resides at the edge of an MPLS service provider's cloud and interconnects a service provider to one or more customers. |
| PE | A provider edge (PE) router is the MPLS service provider's router that connects to the customer router. PE is another name for ELSR. |
| LSR | A label switch router (LSR) resides as part of a service provider's MPLS cloud and makes frame forwarding decisions based on the labels applied frames. |
| P | A provider (p) router is a service provider internal router that doesn't directly interface with the customer routers. A P router is internal to the service. |
An MPLS frame does not maintain the same label throughout the MPLS cloud. Rather, an LSR receives a frame, examines the label on the frame, makes a forwarding decision based on the label, places a new label on the frame, and forwards the frame to the next LSR. This process of label switching is more efficient than routing based on Layer 3 IP addresses. The customer using a provider's network and the MPLS transport across that network is not normally aware of the details of the exact MPLS forwarding that is done by the service provider.
About The Author
Anthony Sequeira, CCIE No. 15626, is a Cisco Certified Systems Instructor (CCSI) and author regarding all levels and tracks of Cisco Certification. Anthony formally began his career in the information technology industry in 1994 with IBM in Tampa, Florida. He quickly formed his own computer consultancy, Computer Solutions, and then discovered his true passion-teaching and writing about Microsoft and Cisco technologies. Anthony joined Mastering Computers in 1996 and lectured to massive audiences around the world about the latest in computer technologies. Mastering Computers became the revolutionary online training company, KnowledgeNet, and Anthony trained there for many years. Anthony is currently pursuing his second CCIE in the area of Security and is a full-time instructor for the next-generation of KnowledgeNet, StormWind.com. Anthony is also a VMware Certified Professional.
CompTIA Network+ N10-008 Cert Guide contains proven study features that allow you to succeed on the exam the first time. Expert instructor Anthony Sequeira shares preparation hints and test-taking tips, helping you identify areas of weakness and improve both your conceptual knowledge and hands-on skills, essential for successful completion of the performance-based testing items on the exam. This complete, CompTIA-approved study package includes the following:
• A test-preparation routine proven to help you pass the exams
• Clearly defined chapter learning objectives covering all N10-008 exam topics
• Chapter-ending review questions and exam preparation exercises, which help you drill on key concepts you must know thoroughly
• The powerful Pearson Test Prep practice test software, complete with hundreds of well-reviewed, exam-realistic questions, customization options, and detailed performance reports
• 40 performance-based exercises to help you prepare for the hands-on exam questions
• A free copy of the CompTIA Network+ N10-008 Simulator Lite software, complete with meaningful lab exercises that enhance your hands-on skills
• More than 60 minutes of video mentoring
• A final preparation chapter that guides you through tools and resources to help you craft your review and test taking strategies
• An Exam Essentials appendix that quickly recaps all major chapter topics for easy reference, both in print and interactive digital format
• A key terms Glossary in both print and on the companion website, which acts as an interactive flash-card application
• Study plan suggestions and templates to help you organize and optimize your study time
• A 10% exam discount voucher (a $33+ value!)
Well regarded for its level of detail, study plans, assessment features, challenging review questions and exercises, video instruction, and hands-on labs, this approved study guide helps you master the concepts and techniques that ensure your exam success.
Master the topics on the CompTIA Network+ N10-008 exam, including:
• Network topologies and media types
• IP addressing
• Network services
• Data center architectures and cloud concepts
• Routing, Ethernet switching, and wireless networking
• Network availability and disaster recovery
• Network security
• Remote access
• Network troubleshooting
Reader Paulo Cardoso says, "This is a great book. In addition, it comes with great additional resources."
Learn more about the CompTIA Network+ N10-008 Cert Guide at amazon.com

Learn more at amazon.com
More Networking Protocols and Standards:
• Integration of IPv6 with IPv4
• PoE (Power Over Ethernet)
• Network Cabling and Components
• Classless IP Addressing
• Remote Control Protocols
• Network Switches
• The OSI Presentation Layer
• Wireless Network Standards - 80211a, 80211b, 80211g, 80211n, 80216
• IPv6 Payload Length Field and Jumbograms
• T-Carrier