The OSI Application Layer
The Application layer, layer seven of the OSI model, provides the interface between applications and the Network Operating System (NOS). The Application layer provides network services and applications such as HTTP (Hypertext Transfer Protocol), FTP (File Transfer Protocol), TELNET, SNMP (Simple Netwrok Management Protocol) and SMTP (Simple Mail Transport Protocol).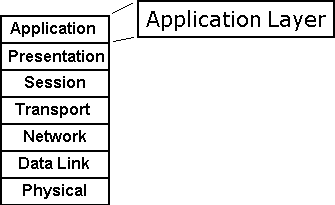 When you think of the Application layer, don't think in terms of applications, but rather protocols. For example there are several different FTP applications that use the FTP protocol at the Application layer.
More Networking Protocols and Standards:
• Evolution of the Microsoft NOS (Active Directory)
• Video - Data Link Layer of OSI Networking Model
• OSPF (Open Shortest Path First) Protocol
• Free eBook: Introduction to 802.11 Wireless
• Introducing OpenStack
• TCP/IP Utilities
• NTP Server Systems - The Network Time Protocol
• How to Set Up FTP (File Transfer Protocol)
• IEEE 802 Standards Specify the Basics of Physical and Logical Networking
• Kerberos Authentication Protocol