The PC (PCMCIA) Card
The PC card, technically called the PCMCIA Card because it was developed by the Personal Computer Memory Card International Association, is a form factor of a peripheral interface designed for laptop computers.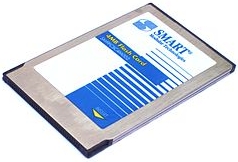 It was originally designed for computer memory expansion, but it became a standard for other notebook computer peripherals including network cards, modems, hard disks, and digital cameras.
A PCMCIA Card is 85.6 mm long by 54 mm wide but come in three different types, each with a different thickness.
| | | |
| --- | --- | --- |
| Type | Interface | Thickness |
| I | 16-bit | 3.3 mm |
| I | 16-bit or 32-bit | 5.0 mm |
| III | 16-bit or 32-bit | 10.5 mm |
There was also a Type-IV card released by Toshiba that is not an official PCMCIA standard, that is 16 mm thick.
The original standard was defined for both 5 volt and 3.3 volt cards. The 3.3 V cards have a key on the side to prevent them from being inserted fully into a 5 V-only slot.
Today PCMCIA card is a legacy interface, as devices that used PCMCIA now use the USB interface.
More Computer Anatomy Articles:
• An Overview of the Printed Circuit Board (PCB) Fabrication Process
• External Serial Advanced Technology Attachment (eSATA)
• The RS-232 Serial Port
• Hard Disk Drive Basics
• How Hard Disks Work
• Understanding Graphic Cards
• CompTIA Strata Study Guide
• General Overview Of Motherboards
• Digital Video Interface (DVI)
• Basic Computer Thermodynamics