Welcome to the world of Knoppix
Knoppix is a bootable CD with a collection of GNU/Linux software, automatic hardware detection, and support for many graphics cards, sound cards, SCSI and USB devices and other peripherals. Knoppix can be used as a Linux demo, educational CD, rescue system, or adapted and used as a platform for commercial software product demos. It is not necessary to install anything on a hard disk. Due to on-the-fly decompression, the CD can have up to 2 GB of executable software installed on it.
If one is to believe news from the Linux camp one could be forgiven for thinking that the world was out to destroy the beautiful thing that is the Open Source movement. Angry fingers would be pointed in several directions, surprisingly (or unsurprisingly) all in the general vicinity of Microsoft. Of course, the noises from the other side are just as loud (actually quite a bit louder). They, in turn, claim that Linux is 'unsafe', hard to use and even harder to maintain, and worse of all, prone to exploitation by hackers (since the source code is open source and thus can essentially be seen and played around with by anyone).
I've always preferred the uncomfortable seat on the fence, despite the green grass on both sides. Granted, you tend to get sore sitting in such a way after a while, but the view from here is great, and argument very clear. The battle between proprietary code (led by Microsoft, no less) and open source (Linux) has been going on ever since Linus Torvalds created Linux and started the process that has made it the genuine force that it is today. And as is the case in such fighting, there are three sides to the story: Microsoft's tale, Linux's woes and my bit of the story. And my part begins with the most interesting OS of them all...
What if you had an operating system that ran completely from a CD? That's right, just one CD. And this CD also contained very useful programs for word-processing, data recovery and system repair utilities, image-editing and internet connectivity, along with excellent audio and video players? What if all you had to do was to boot from this CD and voila, in a few minutes your new OS had taken over your PC. Taken over? Nothing to worry about, as removing the OS from your computer was to be as easy as removing the CD. Literally.
Welcome to the world of Knoppix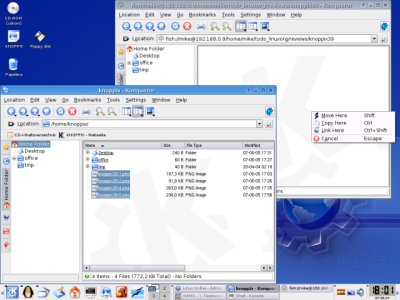 Given the fact that we are in the midst of multi-gigabyte operating systems that we there would be such a competent one that could be run entirely from a CD-ROM is stupendous. Imagine the possibilities. Customized versions of the Knoppix OS would mean that you could literally carry a streamlined version of your home PC around with you wherever you went. Need to recover data from a crashed hard-disk? Boot into Knoppix and use the system repair and data recovery tools to retrieve your data (burn it to a CD-R, or transfer it via a PC-to-PC connection) and maybe attempt to fix the disk as well.